The Wide Street, or Kalelarga is the most famous street in Zadar. It is really old, maybe older than the city itself, and it spread from People's Square to the Forum. On this street you can enjoy in the many cafes, do some shopping, buy souvenirs and visit the local tourist agencies.
Kalelarga - the most vibrant street in Zadar.
If you want to feel the town's pulse, get under its skin, and learn how it breathes life, take a stroll through Kalelarga, and you'll feel more than just that.
Kalelarga is the main street in Zadar, but far more important. It's a street where all events take place: every victory is celebrated on Kalelarga, and every defeat is mourned, every fun activity is held there, and the upcoming are planned. Kalelarga is a street with 1000 faces and each time you pass through it, it will show you one more you haven't seen before.
It's a place where you won't just get to know how Zadar and Zadrans breathe life, you'll become one of them.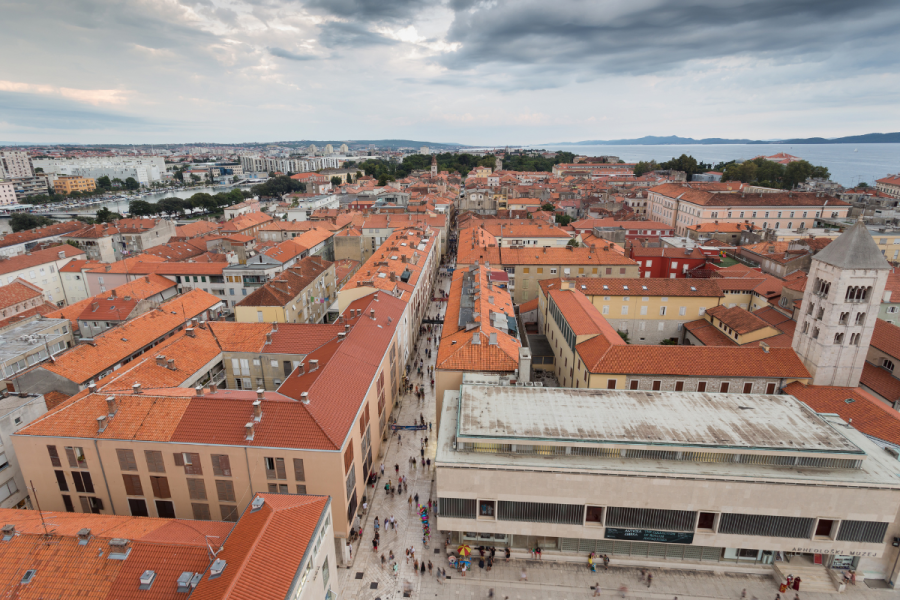 The meaning behind the name Kalelarga
Through centuries of its existence, this famous street was known by many names. Translated to Croatian, it says "Široka ulica" or "Wide street" in English.
Some of its other names are Via Magna, Strada Grande, and Ruga Magistra.
Location and a bit of history
This vibrant street of Zadar goes right through its heart, seemingly splitting the Zadar Peninsula in half. Some other famous Zadar monuments are situated nearby, including the Greeting to the Sun, and the Sea Organ.
You may not have known this, but all the monuments you're planning to visit in Zadar, including the St. Donatus Church, and the Cathedral of St. Anastasia, are located right on Kalelarga!
It isn't a street with a whole song dedicated to it for no reason!
An interesting fact is that some say the street is older than the city itself, and that it was formed even before the Romans came. During Roman times, it was used to form the Cardo-Decumanus street layout that's significant for every Roman city. Kalelarga, to this day, enjoys the status of Decumanus Maximus (the main street).
Virtual walk through Kalelarga
Although the importance of Kalelarga grows daily, it's a street with a thrilling past. The best way to experience every period and what it went through is by taking a walk and letting all the historical stories unfold.
It begins with Petar Zoranić Square with the remains of Trajan's Gate. Petar Zoranić Square is a lively place where you can always hear the cheerful murmur of people drinking their morning coffee. It's a square that buzzes with people and bursts with positive energy. As such, it perfectly foreshadows Kalelarga itself, since it is at its beginning.
After this square comes Šime Budinić Square, which is also always filled with murmurs, joyful exclamations, and tourists absorbing the beauty around them. There's also the Church of St. Šime and the Duke's Palace, where you can see the most intriguing, diverse exhibitions. You will learn something new, witness something unique, and have a lot of fun at the same time.
Kalelarga continues to the People's Square, which is so important for Zadar that a whole book could be written about it. It's a lively square always packed with people admiring the monuments and culture, as well as a place where you really get to feel the true rhythm of Zadar. No filter, just pure emotion, and real life.
On People's Square, there is the Town Lodge, the Town Hall, and the Town Guard. The square itself is a place where the people of Zadar come to welcome their top athletes.
Zadar is a city that loves basketball and its basketball players, and after a great match, they are greeted like royals in People's Square. It's an event you must experience to understand. The joy, pride, excitement, patriotism, and love merge into one emotion that flows from one Zadranin (person who lives in Zadar) to the other, filling the entire square.
After the People's Square comes the Roman Forum.
While you're there, take a moment to admire the church of St. Donatus, one of the most popular Zadar symbols. It's also a place where the best Instagram pictures are made and you just can't come to Zadar without taking a picture by the church of St. Donatus.
St Anastasia's Cathedral is also there to greet the tourists, and her Bell Tower is another insanely popular Zadar monument. If you have the time, reserve 20 minutes to climb to the top of the Bell Tower. You'll be awarded an amazing view of the whole town:
Symbolical red roofs, magnificent Kalelarga, and every single building in Zadar - all spread before you like in a movie. To this day, the Bell Tower of St. Anastasia's Cathedral is the tallest building in Zadar. Therefore, there's no better viewpoint than that.
And once you've reached the Church of the Mother of God of Health, you'll know that you've made it to the very end of Kalelarga.
It's a beautiful walk full of excitement, exhilaration, and pure joy. This is the street that lets you get to know Zadar as no other. It makes every single historical event come to life and makes the present time more alive. It's a street that will send shivers down your spine and make you feel as if you've lived a thousand lifetimes during just one walk.
Kalelarga to Zadar is what the aorta is to man.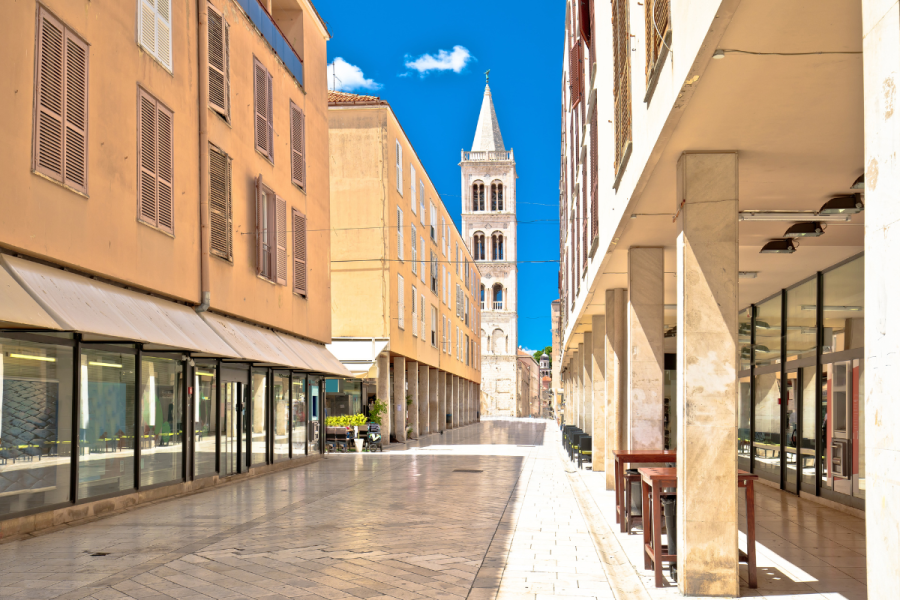 Kalelarga has a story of its own…
Kalelarga holds a dear place in every Zadranin's heart and in the heart of every tourist that ever had the chance to pass through it. It's a street with a unique energy that makes you smile without even knowing it. The greatest friendships and the most beautiful love stories were born on Kalelarga. Local singers wrote and composed songs about Kalelarga that the people of Zadar are proud of and love to sing.
And although Kalelarga is a part of thousands of stories, Kalelarga has a story of its own.
It's a story of love, patience, growth, and joy.
So, if you find yourself in Zadar, take the opportunity to pass through this eccentric street and enjoy everything it has to offer.