Nature lovers' and adventure seekers' favorite. Discover this paradise island - Dugi otok and its breathtaking cliffs, secluded bays, azure waters, and rich cultural heritage.
If you haven't heard of Dugi Otok, you're missing out big time. It's undoubtedly one of the most beautiful and breathtaking destinations in the Zadar archipelago. This island gives you the best of both worlds: idyllic, peaceful island escape with tourist attractions and luxury villas at the level of big cities.
What's there to see? Most popular beautiful beaches in the archipelago! Ever heard of Sakarun Beach? It's basically the Caribs with a Croatian twist. It can't get any better than that.
How about the Veli Rat Beach? The perfectly white sand, and the clear waters… you just have to see it for yourself to understand!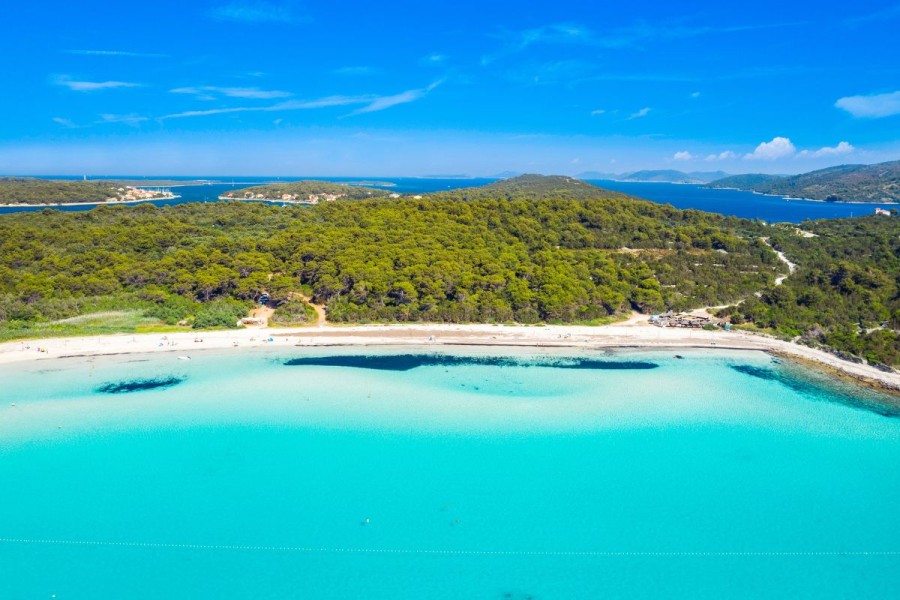 Moreover, Dugi Otok is home to hidden coves, secret caves, and ancient ruins that will have you wondering if you've accidentally entered another dimension. And let's not forget the delicious Dalmatian cuisine that will make your taste buds dance with joy.
Once you experience the magic of Dugi Otok, you'll never want to leave. So stay with us because we'll share with you the top things to do in Dugi Otok!
How to get to Dugi otok
There are two main options for traveling from Zadar to Dugi Otok:
The first one is to take the Gaženica to Brbinj car ferry. This is a great option if you're traveling on wheels. The ferry departs from the Gaženica port and in about an hour and a half, you'll reach Brbinj.
The second is to take the Zadar to Sali or Zadar to Božava catamaran. This option is perfect for those traveling without a car as the catamaran is a passenger-only service.
Get on board at the city port (near the Greetings to the Sun) and choose which destination suits you best. The drive from Zadar to Sali takes less than an hour, while it takes a little more than an hour and a half to get to Božava.
No matter which option you choose, you'll be treated to stunning views of the Adriatic sea and the beautiful landscapes of Dugi Otok.
Visit Beach Brbišćica
Head to the Western side of Dugi Otok and you'll find Brbišćica beach, a hidden gem of this island. This beach, nestled in a secluded cove, is the ideal summer holiday destination in Croatia.
If you're one of those who love peace, quiet, and privacy but still want to take a dip in the refreshing sea and feel the warmth of the sun on your skin… Then Brbišćica Beach is your way to go!
This dreamlike beach combines the best of both worlds - a good old Dalmatian holiday experience and the luxury of privacy. You'll get to immerse yourself in the wonders of the Croatian coast while avoiding the crowds that come with popular tourist destinations.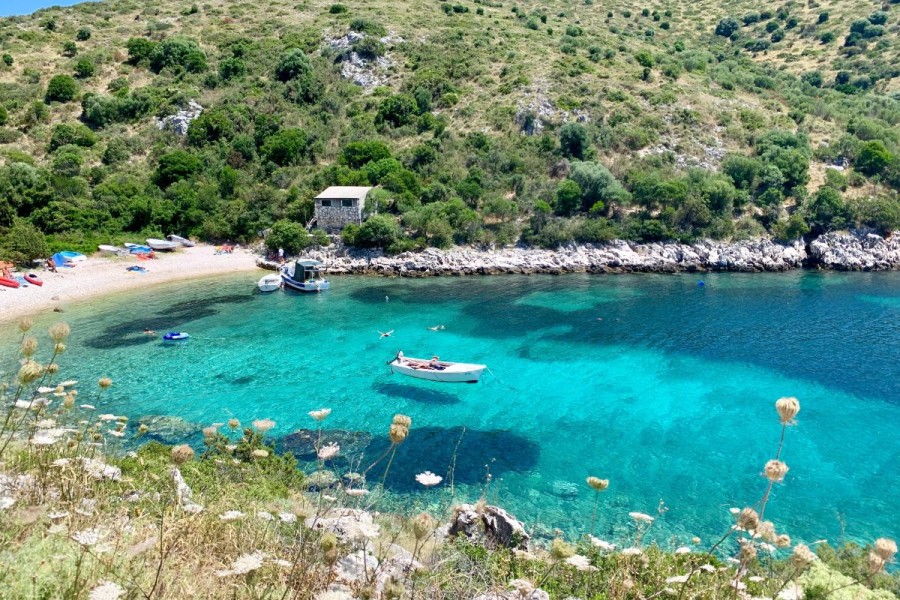 You won't find any of the typical tourist traps that can spoil a vacation hidden here! Instead, Brbišćica Beach offers a serene and tranquil experience and a chance for you to breathe in the crisp Mediterranean air.
As if Brbišćica Beach weren't enough to satisfy your thirst for adventure, there's an added bonus - the Golubinka Cave nearby. Let your daredevil side take over and immerse yourself in a never-the-same experience of exploring the Golubinka Cave! This one will delight all of your 5 senses and awaken your inner adventurer. Read more about this cave below.
So, what are you waiting for? Add Brbišćica Beach to your must-visit list this summer!
Dip in into famous Dragon eye
The Dragon's Eye isn't a mythical creature… it's a picture-perfect destination that brings the out-of-reach exotic regions to your doorstep!
A truly remarkable nature wonder… this one will make for a perfect background for all of your Instagram photos and videos! Don't be surprised if they end up going viral, as this is truly an unusual sight you don't get to see anywhere else.
The Dragon's Eye is a deep pool made by Mother Nature's hands that's connected by 2 tunnels to the sea. Those with the bold hearts of a lion might even dare to jump from the highest border of the hole right into the dreamy azure waters!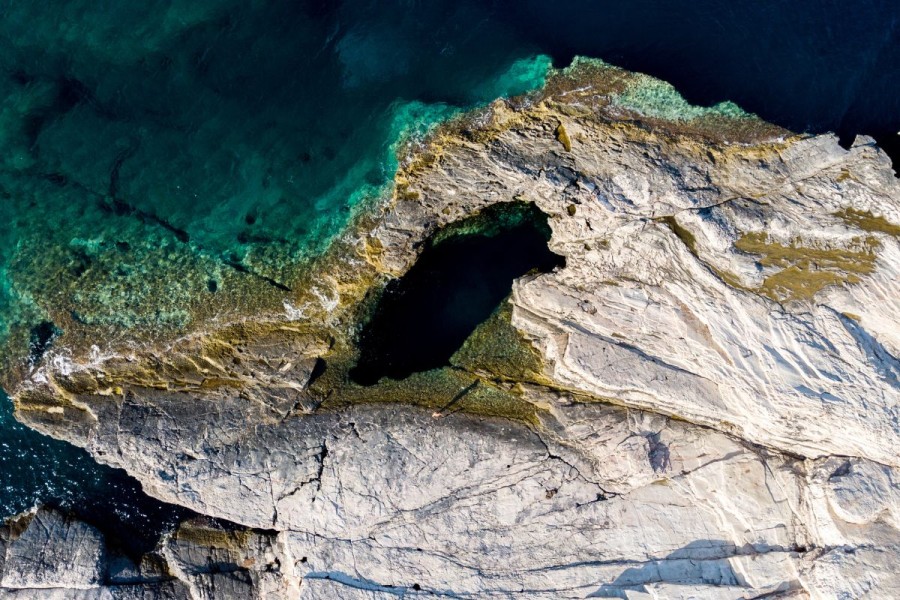 How to get there? You can park your car nearby, but the area isn't as spacious, so you might end up without a place to park. The other option is Brbišćica Beach. After you've found your perfect place to park, all there's left to do is to follow a narrow path that will lead you to this wonder.
Make sure to take all of your snacks and beverages with you, as there are no stores nearby! Another very important tip, it's important to be wary of the weather. Make no mistake and strictly avoid this place during the wind because it can get quite dangerous out there as the waves can reach great heights.
So if you're in the mood for a different type of adventure, the one to make your heart race, head to the Dragon's Eye and make memories that will last a lifetime!
Visit Dugi otok War tunnels
Apart from the otherworldly beaches and spots to indulge in cocktails, Dugi Otok has got a hidden surprise for history buffs up its sleeve - World War II war tunnels! They resemble narrow passages and give a hint of the island of the past days, so the visitors can step back in time and picture how it used to be.
They are very popular among tourists as it really gives you the chance to tap into your inner Columbo. You'll get to explore the passages, see the bunkers, and machine gun nests, and get a glimpse of how everyday life used to look for an average World War II Soldier. A truly remarkable sight that will surely remain engraved in your mind for a long time.
There's also a special treat for our sailors who are ready to uncover the other side of Dugi Otok - 3 submarine tunnels accessible by boat. You'll find them in Zagračina, Paprenica, and Bukašin bays and they're perfect for getting familiar with the island's diverse marine life.
So if you're the type who's up for a little different holiday experience, one with a historical and educational twist, you should definitely head to Dugi Otok and these attractions will surely make your time there worthwhile!
Swim at Beach Veli Žal
Some say Veli Žal Beach is even more beautiful than Sakarun, but we'll leave that up to you to decide! Regardless, this beach is one of those that stand out from the crowd and delight anyone lucky enough to visit them. It's undoubtedly a beach worth spending an entire afternoon! You won't feel guilty just laying down all day and doing absolutely nothing - one can't simply get enough of it!
So, where can you find this little peace of heaven on Earth? It's situated just 2km from the picturesque town of Dragovode. Right in front of it, there's an island Mežanj, the only islet on this side of Dugi Otok. There is a lot of fish there and it makes a great snorkeling spot, as you'll be able to see fish of all shapes and sizes and get more familiar with the underwater world.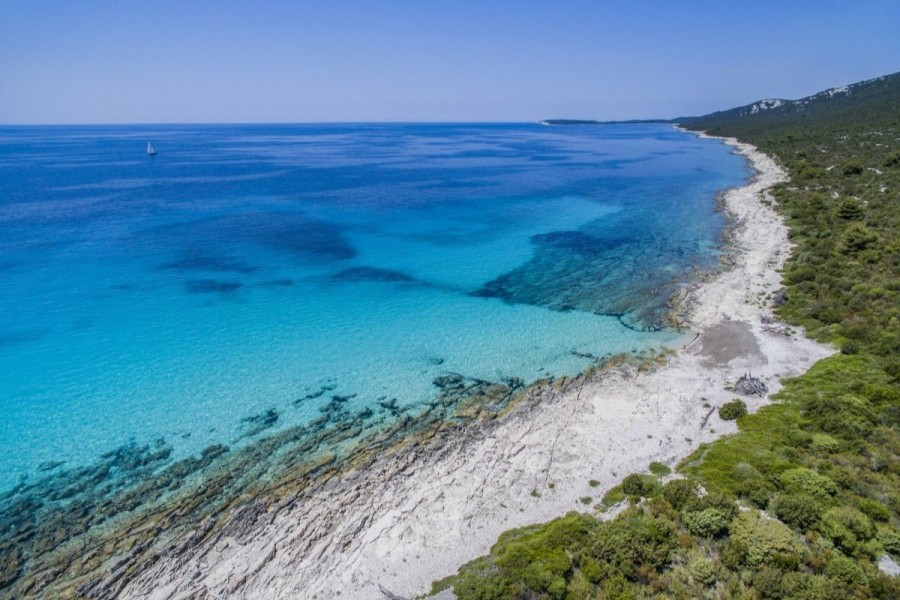 This pebble beach, spread over a length of over one kilometer, ensures that you find a place for yourself, your family, and your friends even during the peak summer season. Fortunately, this beach is relatively calm even at that time, so there will be plenty of places for you to comfortably settle at any time.
This beach is perfect for….
1 Families with kids
The pebbles will surely keep your kids busy for a while and give you some leisure time for a relaxing swim in crystal-clear water.
2 Couples
Couples will love the extra privacy that comes with this beach! You'll feel as if you're living in your own world of love and romance, far away from all of your responsibilities.
3 Friend groups
Large enough to fit an entire crowd, this beach will gladly host and provide an unforgettable experience to friend groups in search of a more secluded spot, where they can just relax and soak up the sun.
You've made it until the end of this text and still hesitating? Make no mistake and visit Veli Žal Beach, it's a crowd-pleaser!
Sail to National park Kornati
Ever wondered why the Kornati National Park is said to be a sailor's paradise? Visit and you'll understand!
This complex of islands creates a wonderful labyrinth woven from the most beautiful islands, islets, and cliffs that are to see on the Adriatic Sea! You'll feel as if you were placed in a magical maze and left to explore the most exotic beauties from a different dimension.
We found that a lot of people want to visit Kornati… but not everyone has their own boat. The perfect solution for you is renting, and we can help you with that! Rent your own boat and set sail on the journey of your lifetime!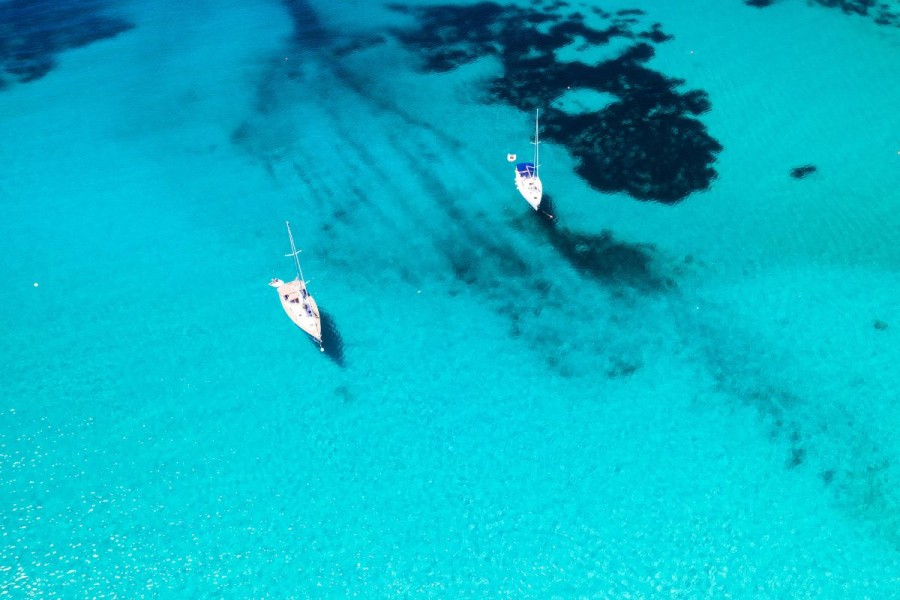 However, if you are not staying on Dugi Otok, but still want to visit this magical place and experience all its charms, Zadar 4 Fun comes to your aid once again! The perfect solution for you is to book a full-day tour and soak up everything Kornati has to offer! With breakfast and lunch included, you won't have to rack your brains and waste time thinking about which restaurant to go to, instead you'll have more time to explore this dreamlike place. Book your full-day tour now!
Relax at the famous Beach Sakarun
Always dreamt of visiting the Caribs, but they're just sooo far away?
Head to the northwest coast of Dugi Otok in the Zadar archipelago and you'll find the Sakarun beach, also known as "The Carribean of the Adriatic"!
This beach is a true crowd pleaser, as well as one of the most popular beaches in the entire of Croatia, not just Dugi Otok! The sand is so white it seemingly glows under the sun, and the waters are painted in the brightest shades of blue. It's an oasis that will forever stay in your memory and will keep you wanting to come back.
Sakarun is everything a traveler could possibly ask for.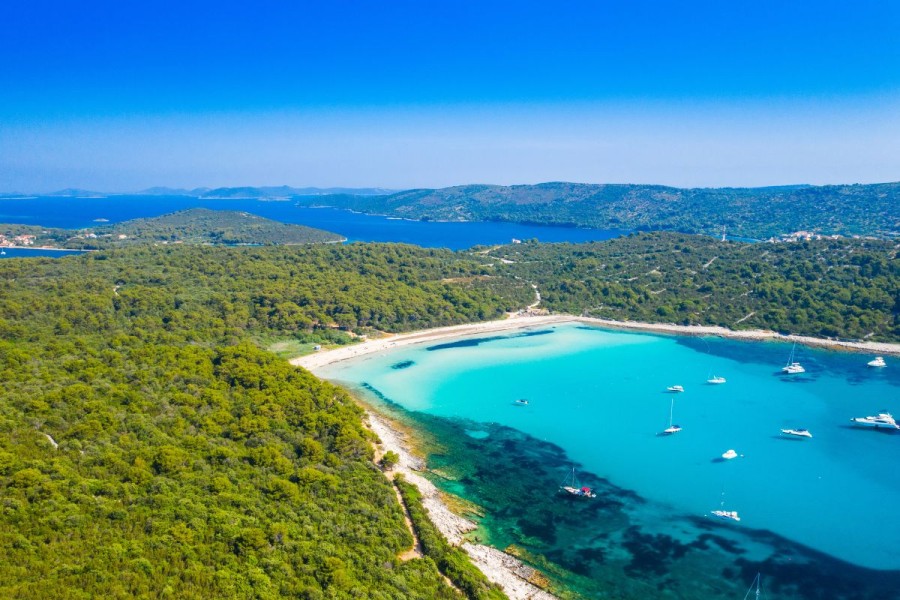 There are a few things you should know if you'd like to visit Sakarun:
1 – It's near the Veli Rat lighthouse
If you're short on time, but would still like to squeeze as many must-see attractions as you can, you'll be pleased to hear that Sakarun Beach is close to the Veli Rat lighthouse. No need to waste your time on extra-long car drives.
2 – It's perfect for families with children
Your kids will lose their heads once they see the white sand! This is also a great opportunity for you to awaken your inner child and help them build sand castles. Regardless of what's on your to-do list for the day, know that the perfect sand will definitely keep your kids busy and will give you more than enough time to just lounge, sip on the sunshine, and take an occasional dip in the irresistible turquoise water.
3 – Restaurants are nearby
A vacation in the Adriatic can only get better if you try the traditional seafood specials, wines, and olive oil. Luckily for you, there are plenty of restaurants nearby for you to choose from that will happily prepare a hearty meal for you in no time.
4 – Plenty of places to hide in the shade
Sunburn is no joke, and while sunscreen is an absolute must-have on every beach, this one is surrounded by a pine forest that will provide the necessary shade to keep those hot sun rays away.
How to get to Sakarun Beach?
There are several options to choose from.
1 – Take a ferry with a car from Gaženica (Zadar) to Brbinj
This is just about a bit over than an hour long drive that will pass you by in no time!
2 – Take a ferry without a car from Zadar to Božava
Božava is a picturesque village only 7km away from the Sakarun beach. Once you're in Božava, you can choose how to get to the Sakarun Beach; you can take a bus, taxi, or even go on foot. Of course, if you decide to go on foot, keep in mind that the temperatures in July and August are no joke. We don't recommend this option.
3 – However, the best way to get there is of course, by boat!
A boat trip to Sakarun beach will provide a unique experience that you couldn't get any other way! The boat ride itself is a whole trip on its own: you'll get to gaze at the most marvelous sights on your way there while simultaneously feeling the light breeze of wind ruffle through your hair.
Simply fantastic!
Because we know that this experience is as good as it gets, we've decided to create a full-day Sakarun Beach tour and let you have a taste of this wonder!
You'll see all the highlights, enjoy the relaxing boat ride, and make the most of your time on this irresistible beach.
And the best thing is… you'll be back in Zadar by sunset! You know what this means? You'll witness the playful color spectacle held by the Greeting to the Sun!
Make no mistake and book your tour before it sells out! (Because this one sells out in no time)
Spend a day in Nature Park Telašćica and Lake Mir
By far, you've probably noticed that the list of things to do on Dugi Otok is nearly endless! That's because it's a diverse island packed with natural wonders and activities to do for tourists.
However, if you're visiting Dugi Otok, you absolutely can't miss Telašćica Nature Park! If you think you've seen it all and nothing can sweep you off your feet anymore, Telašćica will make you reconsider!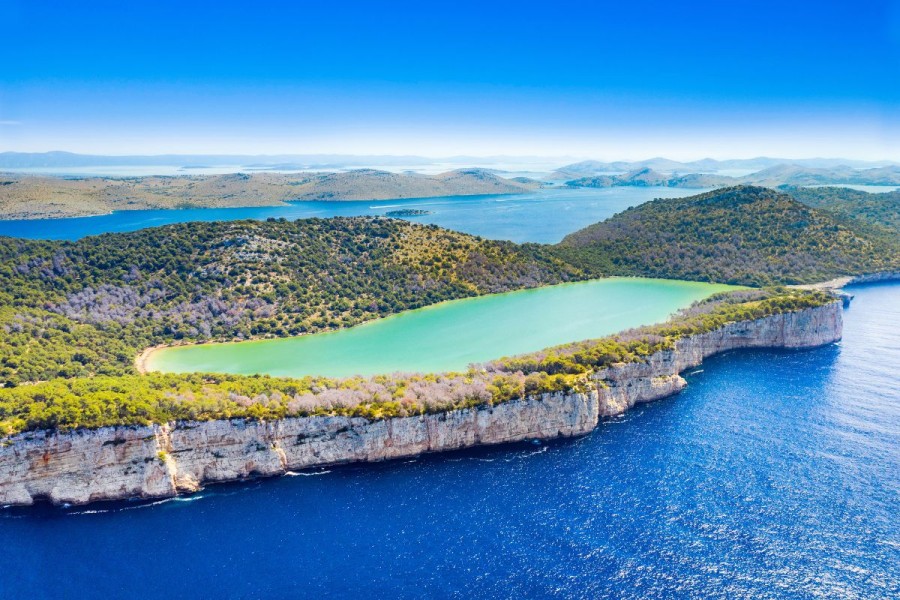 With an endless list of activities you could do there, it's easy to get lost in all the options. That's why we're here to point out all the highlights:
1 - Strmac
Strmac, also known as "stene" is what the locals call the cliffs on the island. They provide a stunning view of the nearby islands and islets. A truly remarkable sight.
2 - Taljurić
So-called "flat island", Taljurić is very small only 3m tall. This one really stands out from the crowd and will provide a unique experience. Because let's be real - how often can you find a completely "flat" island?
3 - Mir Lake
Another natural phenomenon that's nestled on Dugi Otok! Lake Mir is a salty lake (Yes, you've heard it correctly). All the tourists love it and so will you. So if you're visiting Telašćica, you absolutely have to go for a swim!
Climb Lighthouse Veli Rat
A lighthouse whose facade was painted by 100 000 yolks? True story or just an old tall tale? We'll leave that to you to decide!
Whether this story is real or not, we can't be 100% certain. However, we're 100% certain that this lighthouse is a charming attraction you'll love!
The Veli Rat Lighthouse has been standing tall on the grounds of Dugi Otok since 1849, securely guiding sailors through the Adriatic Sea. Being the tallest lighthouse in the Adriatic Sea, it's got quite a reputation to it.
Things have changed a little bit over time and it serves a different purpose. Nowadays, it's home to a friendly caretaker, as well as a popular tourist attraction. While you have to pay a fee to enter, it's worth every penny. The views from the top are absolutely astounding. You'll see the entire archipelago from a bird's view, elegantly laid before your eyes for you to capture its beauty. Needless to say, you'll feel like you're on top of the world!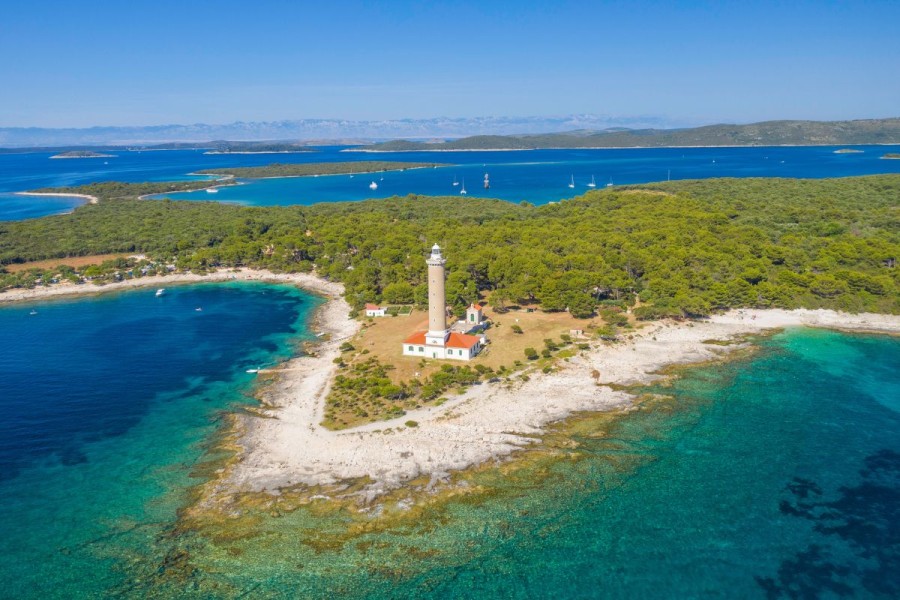 Keep in mind that you'll have to be lucky to actually cross paths with the man who lives there so you can enter it, but it's well worth a shot.
Another interesting fact about Veli Rat Lighthouse is that it's a popular spot for outdoor weddings on Dugi Otok. If you're interested in tying the knot surrounded by the most beautiful landscapes, let us know and we can help make to make arrangements. Feel free to contact us.
And oh, did we mention that you can even stay at the lighthouse? You've read that correctly! Not many people can say they've stayed at a lighthouse on their vacation, but you might just be one of the few.
Explore Cave Golubinka
Beautiful beaches, bays, spectacular landscapes, diverse maritime life... Dugi Otok has it all. That's why it shouldn't come off as a surprise when we tell you that there's a hidden cave right there waiting for you to tell its story.
Golubinka Cave is our next main character. It is a small cave that looks like it came out of the Disney movie about The Little Mermaid. During the day, the sun's rays pass through the cracks, creating a spectacular light show, and coloring its interior in a million different colors. The sea takes on a deep blue color, and the rocks around you look like they are coated with gold.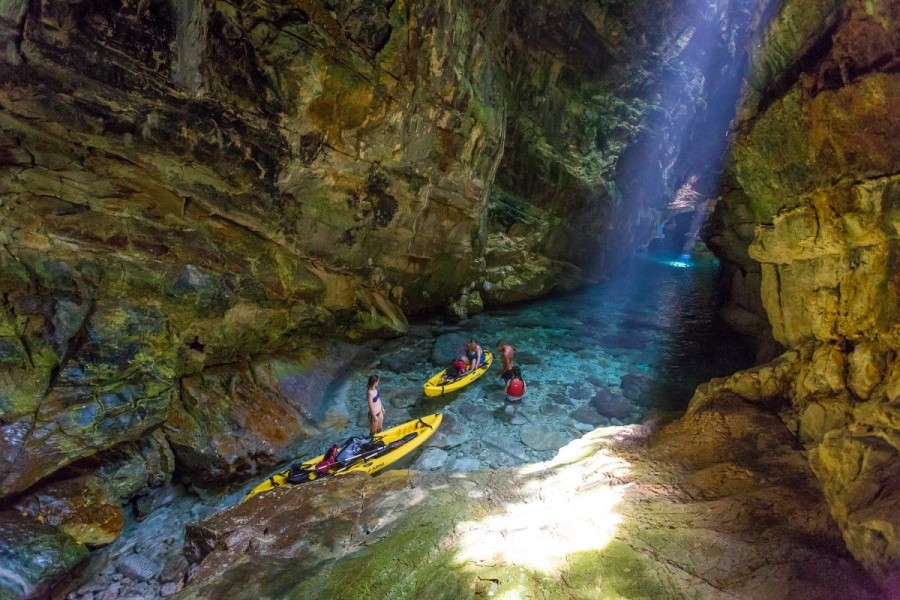 There are several ways to get to this cave, each an adventure in itself:
Golubinka Cave has a long entrance that can be passed by swimming or by using a very narrow boat (preferably a kayak). If you decide to warm up your muscles and swim to the cave, we recommend bringing a diving mask and taking a moment to fully appreciate the unique underwater fauna. The tunnel eventually opens up into a beautiful little hall, illuminated by the sun that comes through the ceiling.
Another way to get to the cave is on foot. There is a road that will take you from Brbišćica bay to the cave, but keep in mind that it is not intended for large crowds of people and vehicles. The best option is to park 200m from the bay and continue on foot.
Things to know before visiting Golubnika cave:
1 – You have to be a good swimmer
Yes, you can get to the cave on foot, but you can only enter it by swimming or kayaking. So if swimming isn't really your thing, skip this one. It's better to be safe than sorry.
2 – Do NOT jump off the rocks surrounding the cave
3 – Plan your visit according to the weather
Do not visit the cave on a windy day as it can become dangerous. You can get stuck inside, and sometimes entry is not even possible. Dugi Otok is packed with a handful of attractions that you can visit and it is better to skip this one if the weather forecast is not on your side.
Many people say that the best way to fully experience the Golubinka Cave is in a kayak, and we agree with them on this one. This is why we've decided to incorporate the Golubinka Cave into our kayaking tour so that you can paddle your way to this Disney-cartoon-like place. Our professional and reliable guides will make sure you enter and exit the cave safely, and overall have the best time exploring the entire thing! So if you want the ultimate experience, book your kayaking tour right away!
Meet the donkeys
Ah, donkeys. If you traveled a couple of decades back in time and asked a local to describe Dalmatia in one word, they would say: donkeys.
But what makes donkeys so significant to this region? Why are they so special to Dalmatians that they, to this day, remain a symbol of this region?
In the past, almost every household used to have a donkey. They were like a part of the family. The role of the donkeys was to carry heavy loads such as water or olives. This is a tradition that lived in Dalmatia for decades, but with the advent of high technology, it died out.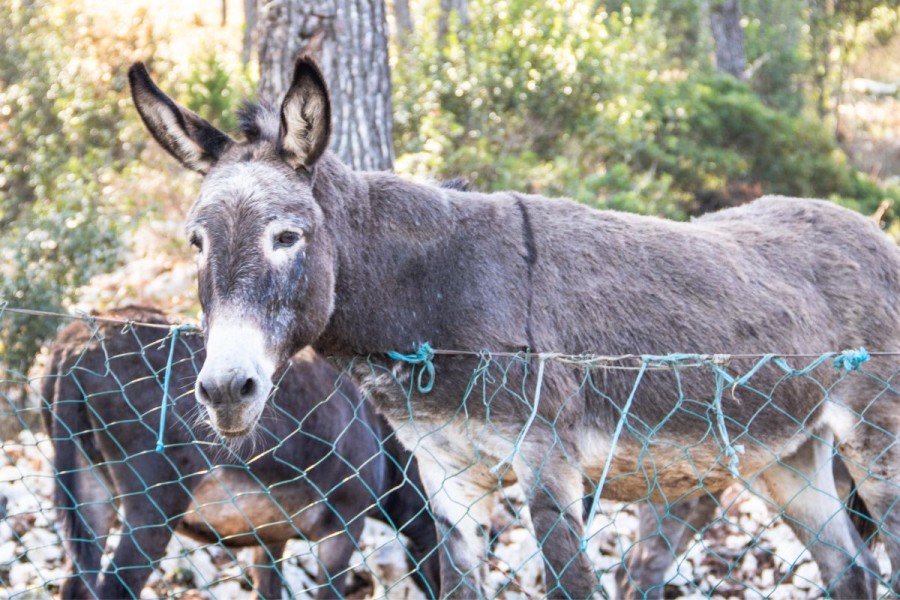 Now the number of donkeys is decreasing year by year, but their significance for this region will stay forever. In fact, donkeys are protected on Dugi Otok, as they are an indigenous breed to Croatia. You'll find loads of them at the donkey shelter in the Telašćica Nature Park. Meeting donkeys makes for a great family activity that will surely bring you and your little ones closer together. Kids love donkeys and donkeys love kids but keep in mind that they are living beings, not a part of the exhibition. Be careful with your approach and don't creep upon them, they won't like that. Nevertheless, they are very gentle, pure-hearted animals that will surely make you want one as a pet. Too bad you can't keep one in an apartment.
If we have intrigued you with this text, then your next stop is a visit to the Jagić family farm (OPG Jagić).! It is a local family engaged in animal breeding, olive growing, and fishing. Visits are possible with prior notice.
And if you would like to bring your friends a unique souvenir from Croatia, one that you are sure no one has brought them before, bring them – a Lucky Donkey Sh*t. It's not a joke. It's an actual souvenir!
You will definitely make your friends laugh, and this unique gift will bring them good fortune! The Lucky Donkey Shit can also be bought on OPG Jagić!
Dive into Dugi Island's underwater world
All of you, underwater enthusiasts, listen up! Dugi Otok is your next go-to place for exploring the underwater empire of the Adriatic Sea. The most popular, most interesting, and most attractive place for all tourists is the sunken shipwreck, Michelle.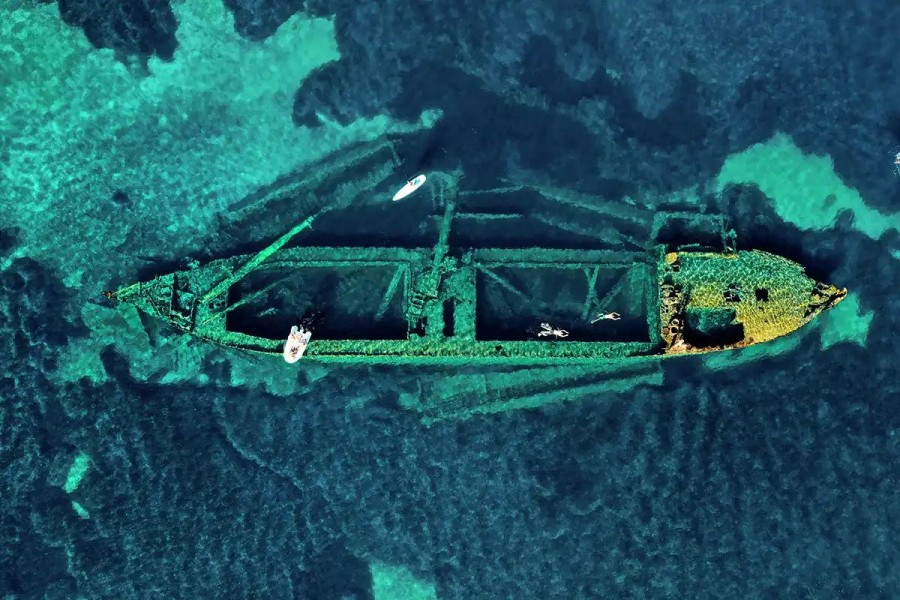 You will feel like one of the divers who discovered the sunken wreck of the Titanic. Every corner of this ship is a story in itself that you'd want to read again and again.
Apart from Michelle, it's important to note that the maritime life of Dugi Otok is extremely diverse. You will see vibrant coral reefs and diverse fish species as you enter the depths of this underwater kingdom. This area has been blessed with stunning visibility, allowing for an unforgettable diving experience.
Last but not least, there are many diving schools and centers on the island that cater to all levels of expertise.
Eat local food
Pašticada, black risotto, peka…do these sound familiar to you?
Dalmatia boasts historic towns, stunning coastlines, and marvelous beaches…but how are you supposed to really get to know a nation if you haven't gotten a taste of its cuisine?
Luckily for you, Dalmatian cuisine delivers a mouthwatering experience to just about anyone: from the pickiest of the picky eaters to the biggest of the foodies.
One thing is for sure – you'll leave Dalmatia with a fuller heart and a fuller belly!
So what should every tourist try on their visit to Dalmatia?
- Black risotto
Black risotto is a heavenly rich risotto that bursts with flavor. The star of the show is squid and gets its distinctive color from squid ink.
- Pašticada
An all-time favorite. Pašticada can be included in one of the classics of Dalmatian cuisine. It's a tradition to prepare this hearty stew for holidays and big celebrations. And what better way to treat yourself than with a delightful beef stew? The tender beef, the scrumptious dry bacon, red wine, carrots…this one is a spectacle for your tastebuds!
- All the fish specialties you can get your hands on!
One thing is for sure – Dalmatians know their way around fish! Nowhere will you taste delicious fish like in Dalmatia. The secret ingredient is of course – love.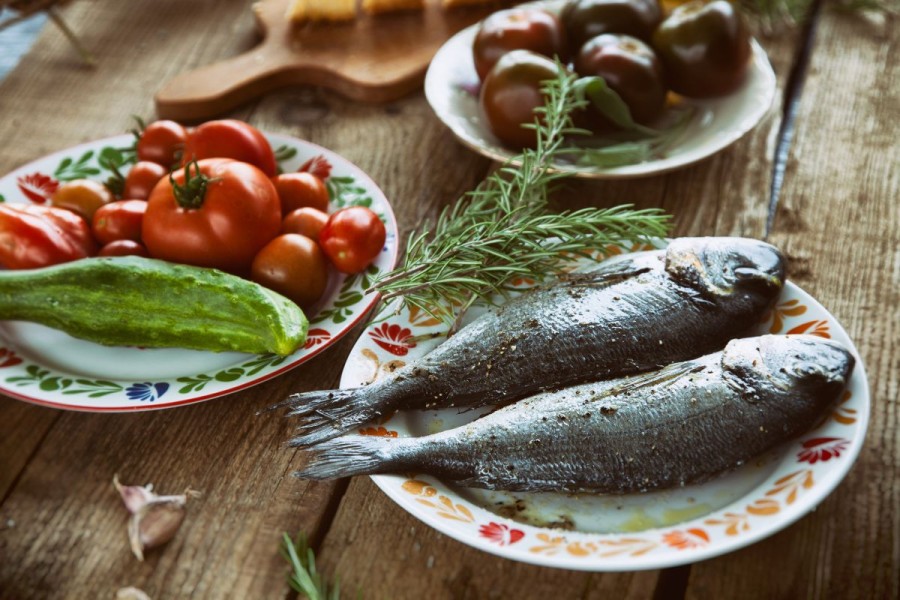 The list goes on and on, and we could write about this gorgeous cuisine day and night, but then we'd have to write a whole book dedicated to it.
Finally, there are a couple of last dishes we'd like to highlight as well:
You must try the traditional Dalmatian peka, local wines, olive oil, and local cheeses. Head to Pag for the best cheese roll you'll ever have!
Dobar tek!*
*(Cro. for: "Have a nice meal)
Kayak around the Dugi island's shores
This island is magnificent, whether you explore it by swimming or walking. However, it has many secret bays and highlights unattainable on foot. If you wanted to swim there, it'd be a hassle. Trust us, we've tried.
That's why all tourists love kayaking. By kayak, you'll discover all the hidden coves, bays, and beaches of this island that are otherwise inaccessible.
The real experience comes when you take the oars in your hands and feel the rush of adrenaline because you know you're headed for the most wonderful part of the island.
And when the adrenaline is combined with the flawless blue around you, good company, and laughter, that's when core memories you'll remember forever are created.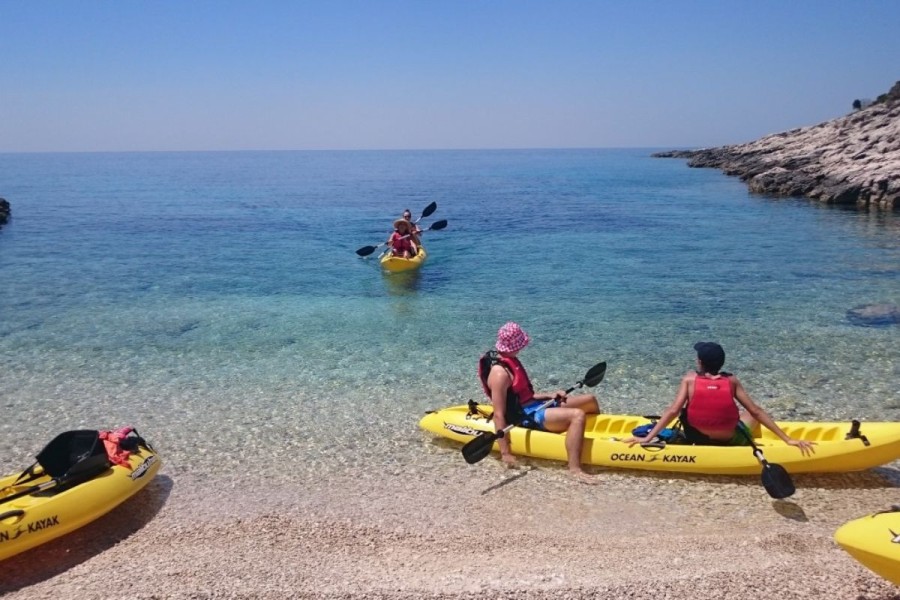 We wanted to provide this unrepeatable life experience to a wider audience and that's why we made not one, or two, but 3 different kayaking tours! Each one is a masterpiece on its own.
For the ultimate sensation, book your Dugi Otok 2-day kayak tour that includes snorkeling, picigin on the Sakarun beach, and cave exploration.
Short on time? Our 1-day tour lets you uncover all the highlights in no time. Book your tour right away!
Want an adrenaline kick? Our half-day tour takes you to Golubnika cave, cliff-jumping, and sunbathing on Veli Žal beach.
Join us and explore the stunning landscapes of Dugi Otok today!
Fort Grpascak Viewpoint
See the world from a different angle at the top of the Grapašćak tower, a historical fortress with a compelling view. Once a military fortress, today a popular tourist destination that makes the best background for your Instagram photos! Take the chance to find out more about Dugi Otok's rich history, as the fortress now serves as an Educational Center with several exhibitions.
Treat your eyes to a panoramic view of salt lake Mir, Telašćica bay, the cliffs of Dugi Otok, and the Adriatic sea.
Don't miss this opportunity to explore the fortress and its exhibitions, all for free!
If you stayed with us until the end, you already know how to best spend your time on Dugi Otok. There is a bunch of things to do at Dugi otok, and you can't go wrong with just about anything from the above. So if you wish to show your loved ones just how much you care about them, take them to Dugi Otok. It's a paradise island where people grow closer together as they share beautiful moments. Good food, good company, and good vibes. What else do you need for a perfect vacation?