Established in 1999, Northern Velebit is the youngest of eight national parks in Croatia. This part of the Velebit Mountain is a true patchwork of the most diverse habitats that are home to countless plant, fungus and animal species – a wealth that is yet to be explored in its entirety.
Velebit isn't just a mountain, it is a place where the north and the south of Croatia merge into one. Each contributes the best of itself and weaves it into one mountain - Velebit.
And the silver crown of the north is the Northern Velebit National Park (Nacionalni park Sjeverni Velebit)
It consists of large, seemingly bare stone rocks that reveal mysterious, forgotten historical stories engraved in the cracks. These cracks are like pores that depict every step that passed through it, every lagging wave that crashed against its surface, and every breeze that ruffled even a single blade of grass on it.
It's a mosaic where karst valleys, grasslands, pits, sinkholes, snow banks, puddles, and scrapes seamlessly flow into each other, creating a natural wealth that humanity has only just begun to discover.
Biology of Northern Velebit National Park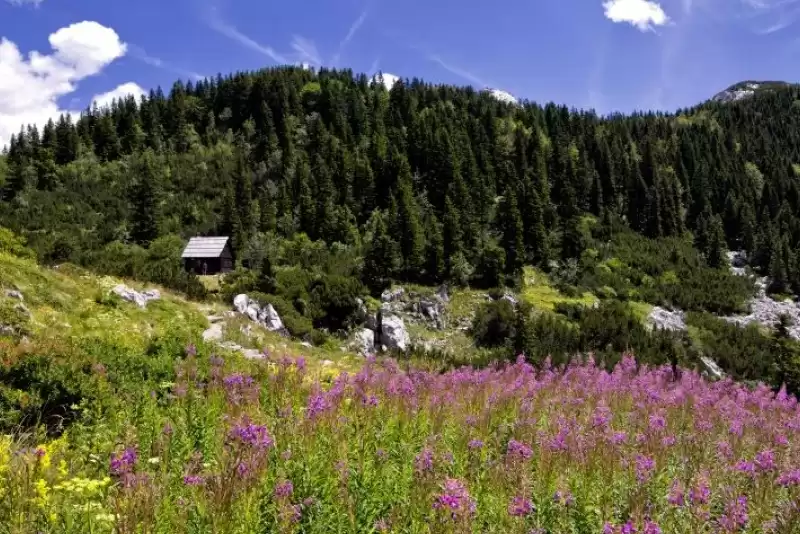 Northern Velebit National Park abounds in many animal and plant species that have found haven within the Velebit's wilderness. Numerous mushrooms, animals, and plants have settled over the small area of 106m2. In their unity, they make a show-stopping performance, creating breath-taking views all over the mountains.
However, it's not a completely untouched nature that has never fallen under human influence. Man has left his stamp on Velebit's landscape through the maintenance of lawns, puddles, and the construction of drywalls (Cro. suhozid), and in this way has enabled the creation of even greater biodiversity.
80% of its area is made up of forests, which are gradually taking over the existing grasslands created by human influence. As a result, numerous animal species are disappearing.
However, the Northern Velebit National Park also has its dangerous wild side. Numerous bears, wolves, and lynx have found their refuge there in the mountains. During your visit to the park, you'll only find their traces.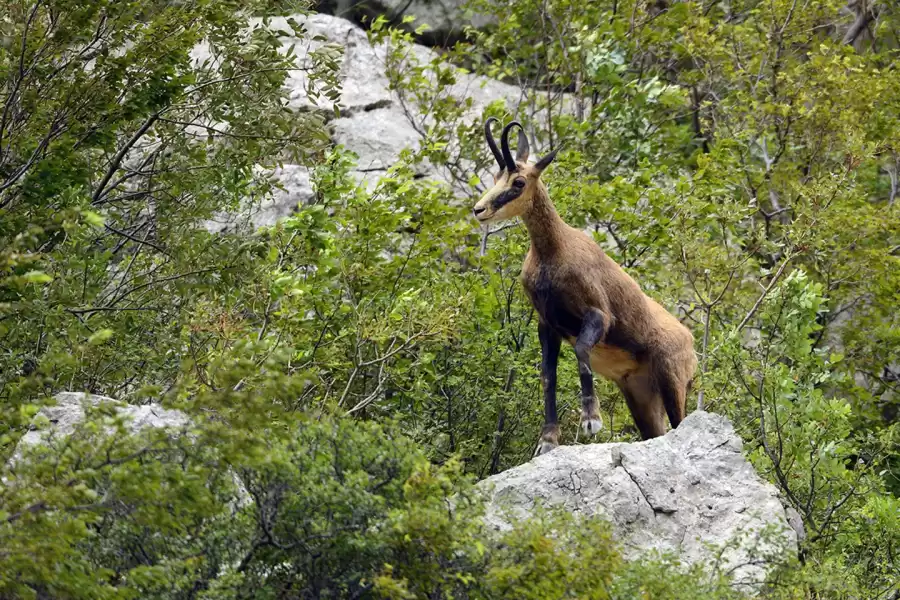 In the depths of the mountains, in cold darkness and solitude, there's another world hidden from the eye of a common passerby. It's a peculiar world of deep, majestic pits. More than 400 are spread over the territory of the Park, and some of the deepest are the cave system Luka's pit (Lukina jama)–Trojama (-1431 m), Slovak cave (Slovačka jama, -1320 m), and Velebit cave (Jama Velebita, -1026 m).
Velebit also has another peculiarity that's not of a physical nature - the feeling of freedom provided by crisp air in combination with natural beauty, epic views, astonishing landscapes, and wild nature. People who visit Velebit feel as if they've returned home after a long journey.
Northern Velebit National Park, as well as the entire Velebit, is a dignified place with majestic history, present, and future. It truly is one of the greatest wonders of Earth that shows just how generous Mother Nature can be.
National and global recognition
Precisely because of its natural heritage and immeasurable importance, Velebit was included in the World Network of Biosphere Reserves in 1978. 3 years later it became a Nature Park with 2 national parks: Northern Velebit National Park and Paklenica National Park.
Northern Velebit National Park, proclaimed in 1999, is the youngest Croatian national park. Due to its uniqueness and limitless value, the Northern Velebit National Park became part of the Natura 2000 ecological network as well as the European Destinations of Excellence (EDEN) network as the national winner on the topic "Tourism and Protected Areas". Another interesting fact is that it's included in the UNESCO list of World Heritage Sites in Europe under the name "Beech Rainforests in the Carpathians and Other Areas of Europe" due to its 1289 hectares of beech forest.
Other beauties
Northern Velebit National Park continues to amaze us with the Hajdučki and Rožanski kukovi reserves, the Visibaba botanical reserve, as well as the Zavižan-Balinovac-Velika Kosa botanical reserve, inside which the Velebit Botanical Garden is located. Also, the Northern Velebit National Park is on the list of every hiking lover due to its exhilarating hiking trails, the most famous being the Premužić trail.
Hajdučki i Rožanski kukovi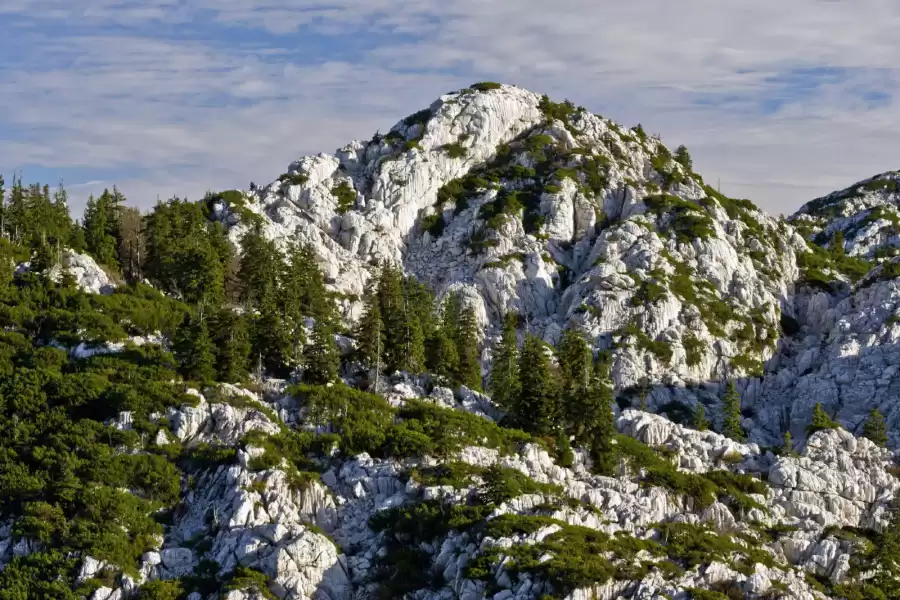 Hajdučki and Rožanski kukovi were declared strict nature reserves back in 1969. They're made up of about fifty gigantic peaks that tear the sky apart with their height. Separated by the Lubenovac gate (1474m), Hajdučki and Rožanski kukovi are a treat for every mountaineer who wants to enjoy untouched natural heritage.
The famous Luka's Cave (-1392), the deepest cave in Southeast Europe, is also located there.
Northern Velebit National Park is currently on the UNESCO list of World Heritage Sites due to the 1289 hectares of beech forest located in this area.
The wonders of Northern Velebit National Park continue to be discovered every day.
Join all the people who are just getting to know the expanses of this magical mountain and make your first (or hundredth) hiking steps.
A single visit is enough for you to fall in love with everything this park has to offer.
Become one with nature, visit Northern Velebit National Park.
Where is Northern Velebit National Park?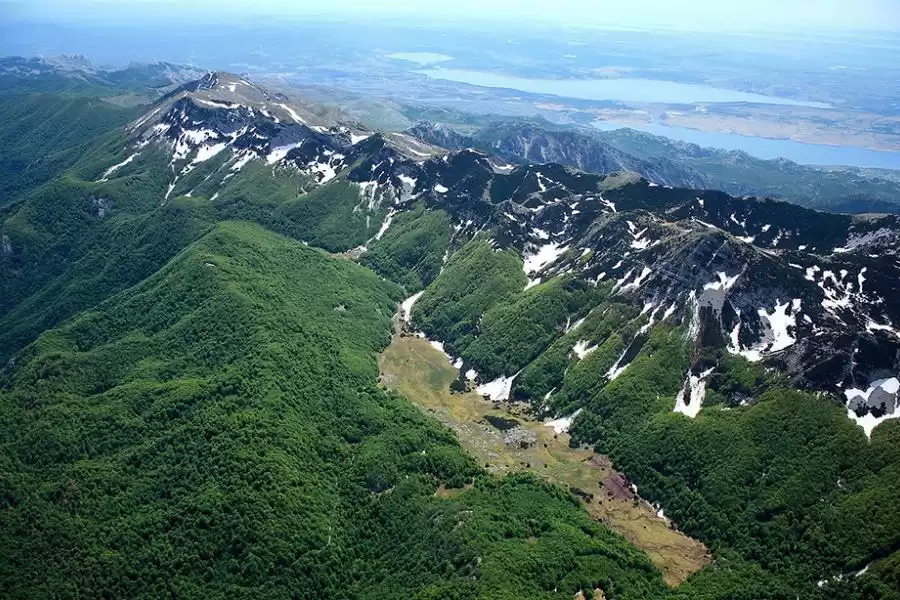 Northern Velebit National Park is located in the center of Croatia, in the Lika-Senj County, in the immediate vicinity of the town of Senj.
As a national park located in the center of the country, it's on a convenient location for tourists who come from all over the state.
This table contains information about the distance of the Park from the most famous and most visited Croatian cities:
| | | |
| --- | --- | --- |
| Zadar | 175km | 2h 30min |
| Zagreb | 188km | 2h 35min |
| Split | 298km | 3h 30min |
| Dubrovnik | 495km | 5h 55min |
Regardless of which city you come from, Northern Velebit National Park will delight you equally.
Velebit House visitor center
Located in Krasno, one of the larger Croatian mountain villages, the Velebit House visitor center is an ideal opportunity for an educational and fun way to spend the afternoon. You'll experience Velebit with all your senses - it will ruffle your hair, get under your skin, create a melody for your ears, and unforgettable sights for your eyes.
The house is spread over 4 floors made up of several thematic units that flow seamlessly into one another in order to show the true face of Velebit, with all its cultural and natural abundance.
The attic
The attic of the house takes you back in time - you learn the story of the people who once lived on Velebit in symbiosis with nature through numerous films, old audio recordings, and exhibits. You will learn the story of mystical creatures that once found their haven in the mountain, such as fairies, witches and werewolves.
The first floor
On the first floor of the House of Velebit, you'll learn the entire formation process of the mountain itself - from deposition to elevation. You'll have the opportunity to "push Africa", that is, get involved in the process of raising Velebit through an interactive exhibition. You'll also be acquainted with the aquatic realm and find out how surface and underground waters move.
At a certain point, you'll have the opportunity to become a speleologist and take a ride on a lift that simulates the descent to Luka's cave, one of the deepest caves in the world. You'll plunge into the darkness and see the whole world created in pitch blackness with the original sounds from speleological expeditions - the sound of water, dripping, and falling stones in the background...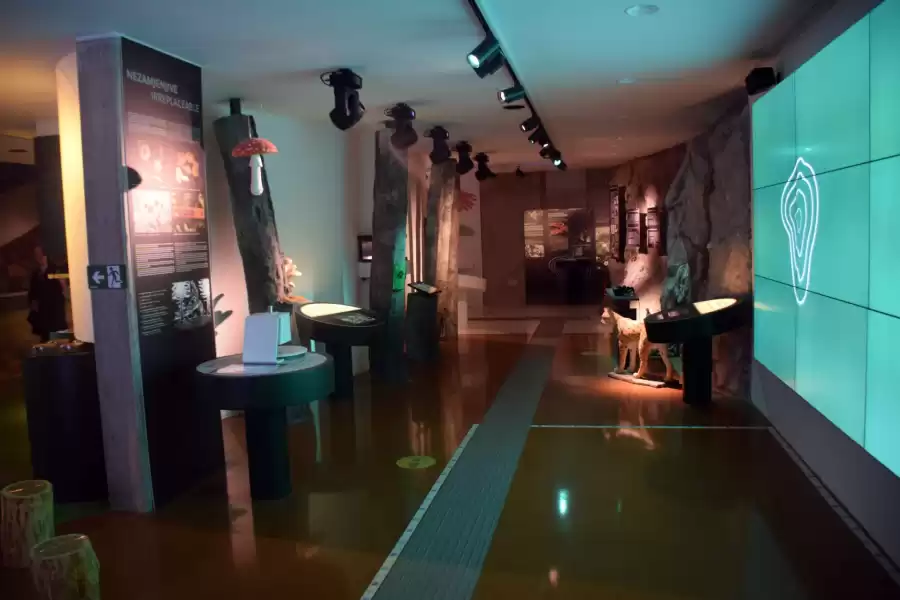 Ground floor
The story continues on the ground floor, where you'll learn a lot about Velebit's diverse climate. You'll even have the opportunity to experience its extreme weather conditions with all your 5 senses, as well as breathe in the scents of various plants that spread across Velebit and hear various sounds of nature.
Visitors can even enter the bear's den and see the world from a bird's perspective - all with the help of 3D glasses.
Basement
And finally, in the basement, there is an info desk, a souvenir shop, and a sensory chamber. Velebit from all sides can be seen with the help of its 3D model.
The visit lasts about 1.5 hours, and the house is open from 8:00 a.m. to 4:00 p.m.
The in-detail price list can be found on their official website, where you'll be able to find all the necessary information regarding discounts for children and combined tickets.
The house in Velebit tells an intriguing story about man and his coexistence with nature: how he grew along with it, explored it, tamed it, and identified with it.
Don't miss the opportunity to experience all Velebit phenomena in one house.
Visit the Velebit House visitor center!
Velebit Botanical Garden
In order to make the plant kingdom accessible to everyone - scientists, researchers, and Velebit visitors, the Velebit Botanical Garden was founded in 1967 on the initiative of Dr. Fran Kušan. Now it is located at 1480 m above sea level. within the botanical reserve Zavižan – Balinovac – Velika Kosa, and 15 minutes walk away from the Zavižan mountain hut.
It only takes an hour's walk to experience all 300 plant species placed there. The best time to experience everything it has to offer is in June and July when the flora is in full bloom. You will see some rare plant species, such as Velebit's degenia (Degenia velebitica), karst eel (Dianthus velebiticus), Kitajbel's pakujac (Aquilegia kitaibelii), Croatian siberia (Sibirea altaiensis ssp. croatica), and so on.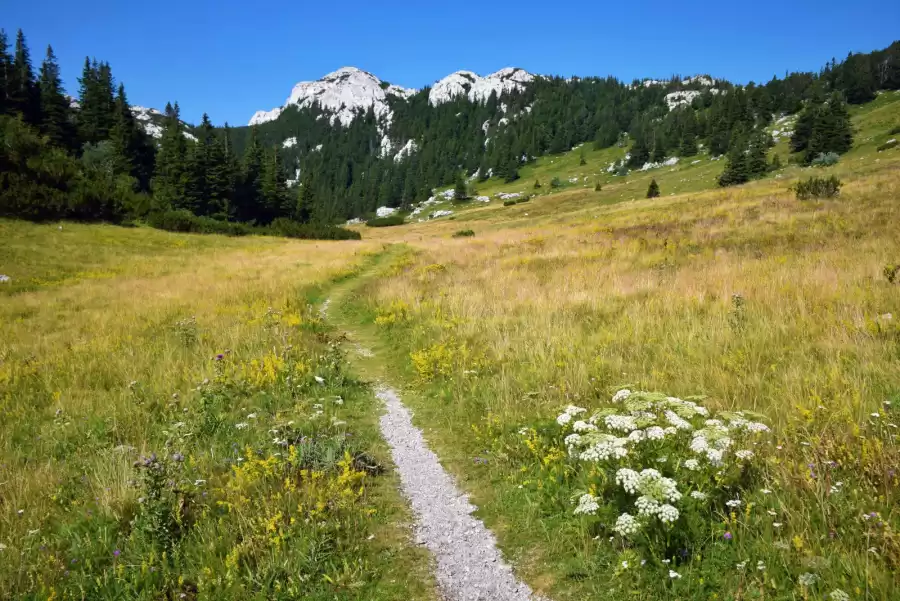 Within the park, there is the Balinovačka ponikva, surrounded by a circular, 600 m long rocky path with steps for descending to the very bottom of the ponikva (1430 m below sea level).
There are many hiking trails leading to the surrounding peaks: Velika (Zavižanska) Kosa (1620 m a.s.l.), Balinovac (1602 m a.s.l.), and Veliki Zavižan (1676 m a.s.l.)
Visit the Velebit Botanical Garden and enjoy the oasis of peace, quiet, and diverse flora.
Can you stay in Northern Velebit National Park?
You can find accommodation inside the park or in the surrounding towns. However, the accommodation inside the park is not adapted for a longer stay.
Within Lika-Senj County there is a variety of accommodations for mountain lovers. The closest places to spend the night before going to the park are Krasno, Kuterevo, Otočac, Sveti Juraj, Senj, and Lukovo.
If you are already on the mountain and want to stay somewhere, there are numerous mountain lodges at your disposal.
Inside the park, you can stay in Shepherds' hut Alan, Shepherds' huts Lubenovac, Zavižan mountain hut, Alan mountain hut, and Rossi's shelter.
Shepherds' huts Alan
At the foot of Alančić peak, Shepherds' huts Alan will welcome you with arms wide open. There are 6 cabins, 3 of which can be used to stay, the fourth being an auxiliary facility, the fifth is an information center, and the last one - a woodshed. The cabins are ecological and use alternative sources of energy, aren't equipped with running water (rainwater is used instead), while solar panels provide electricity.
It can be reached by an asphalt road from Jablanc or a macadam road from Begovača.
With the nearest stores being kilometers away, you should have all your resources prepared in advance and use them rationally.
Zavižan mountain hut
There's also a possibility of staying in the Zavižan mountain hut.
The hut is supplied with electricity and a telephone and is suitable for preparing your own food.
On the ground floor, there's a common dormitory with 14 beds, a dining room with 40 seats, and a kitchen. The first floor contains two and four-bed rooms and a common dormitory with 8 beds. The rooms and dormitories are well equipped, so there is no need to bring your own sleeping bags.
We suggest booking accommodation in advance in the heart of the season so that you don't end up without a place to stay.
Shepherds' huts Lubenovac
At the foot of the Strict Reserve of Hajdučki and Rožanski kukovi, there are Shepherds' huts Lubenovac. It consists of 4 apartments, 2 of which are for accommodation (maximum capacity of 4 people per apartment), the third has a fireplace, and the fourth has a shower and toilet. The apartments aren't supplied with electricity or water. Available water is used for washing and maintenance, so it's necessary to bring your own drinking water.
Alan mountain hut
In the Alan mountain hut, there are 5 rooms with 40 beds.
While there's a possibility of preparing your own food, bringing your own sleeping bags is highly recommended. Water is provided, but it should be used sparingly.
From the middle of June to the end of October, the Mountaineering and Orienteering Club Sljeme from Zagreb is on duty, and in the off-season, the on-calls take place only during the weekend.
Russi's shelter
Russi's shelter is located in the immediate vicinity of the Premužić trail and is intended for a stay in case of emergency or bad weather.
Northern Velebit National Park tickets
The admission tickets can be bought in the main entrance of the Park - Babić Siča, as well as in the Alan Mountain Hut or inside the Park from ranger service.
However, if you wish to buy your tickets in advance, you can do so by purchasing them online on North Velebit National Park's official webshop.
You can check the prices on their official in-detail price list.
Treat youself to something new and unique, visit North Velebit National Park!