Paklenica Canyon is a mountainous National park established in 1929, but for historical reasons it was disestablished and reestablished in 1949, only few months after Plitvice Lakes.
Paklenica National Park is a piece of heaven with astonishingly diverse flora and fauna, attractive landscapes, divine viewpoints, and untouched nature. It's located on the slopes of southern Velebit and is the second proclaimed national park in Croatia.
The Park is a gracious mountain that proudly holds a place on top of every daredevil alpinist's "must visit" list. Climbing the mountain, you'll feel all the range of emotions a person can feel: pride, surprise, euphoria, joy, calmness, relief, interest, adoration, admiration, and the very opposite of each.
It puts you through an exciting emotional and physical rollercoaster that makes you feel alive and energetic as never before.
As the adrenaline pumps through your veins, you'll know that Paklenica is like no other. It's a delicacy for every alpinist, beginner, or pro, that will evoke the adventurist ​​in you.
The giant peaks of Velebit spread with their majesty between the gorges of Mala and Velika Paklenica that are carved into the slopes of Velebit. Paklenica National Park is located in this area of ​​less than 100m2. For years, since its proclamation on 19/11/1949, it has been providing shelter to hundreds of plant and animal species.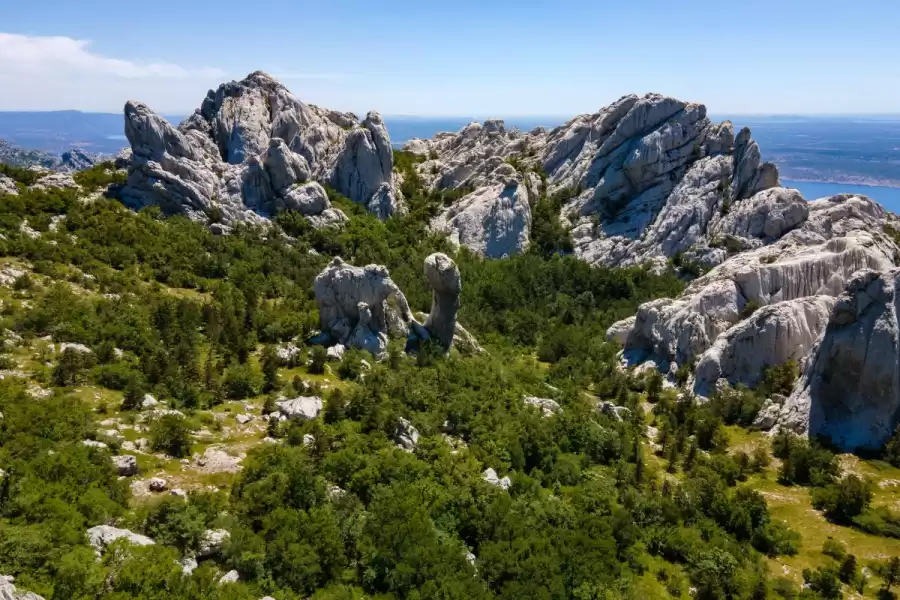 The animal and plant life on Paklenica is so diverse that it seems as if every plant and animal species in the world was packed into those 95m2. This diversity is the result of numerous climatic characteristics, as well as a rich geological past.
The famous name of the Paklenica National Park was derived from the black pine resin - paklin, which is a symbolic name due to the fact that Paklenica is the autochthonous home of black pine forests. Paklina was once used in folk medicine for healing wounds, lighting, and coating wooden ships.
The title of the highest peaks of Paklenica National Park is proudly held by Vaganski vrh (1,757 m/asl) and Sveto brdo (1,753 m/asl). These are peaks reserved only for the most experienced climbers, who dare to experience the wilderness of the mountains to the fullest.
The Velika Paklenica gorge is completely passable. Its very end is home to the steepest slope of Velebit - Anića kuk. It is a bulky rock that measures 400m in height, as well as the most famous mountaineering point in Croatia. Climbers from all over the world flock to Croatia to experience the special Anića kuk and experience its glory.
The paths of Velika Paklenica reach the very core of Velebit. A valley with a symbolic name is located in its immediate vicinity - Bezimenjača (Croatian term for No-name). Many mystical forests full of secrets and untold stories spread across that valley, waiting for their moment to shine.
Also, above the Velika Paklenica canyon itself is the Manita Peć cave, and the Vodarica Cave is located between the Velika and Mala Paklenica canyons.
While Velika Paklenica is suitable for both inexperienced and experienced climbers, the same cannot be said about Mala Paklenica.
Mala Paklenica is a real challenge and a wild oasis without a well-trodden, clear path. The passage through it sometimes requires even breaking through the underbrush with your hands. At the very entrance, there's a board with an inscription as a warning "only for experienced mountaineers". Experience and knowledge of its flora and fauna are necessary for its successful passage.
7/7/2017 Paklenica National Park received crowning recognition when it made it to the UNESCO World Heritage List.
Where is Paklenica National Park?
Paklenica National Park is located between 2 counties - Zadarska (64km2) and Ličko - Senjska (31km2).
It's in the immediate vicinity of the town of Gospić, as well as many other large tourist towns in Croatia due to its unique location in the very heart of Croatia.
Distance in kilometers:
| | | |
| --- | --- | --- |
| Zadar | 46km | 50min |
| Split | 170km | 1hr 45min |
| Dubrovnik | 366km | 4hr 17min |
| Zagreb | 248km | 2h 40min |
Regardless of where you are and which city you're heading from, Paklenica National Park will delight you equally. Even a long ride becomes easier and faster when you know that a true alpinist delicacy is waiting for you at the end of it.
How can I go to Paklenica National Park?
You can reach Paklenica National Park by private car, bus, or private transfer.
The best way to get to Paklenica National Park is undoubtedly private transfer.
Private car transfers are the most reliable and safest way to travel, especially if you're on a tight schedule.
If you're traveling from Zadar, luckily for you, we've got you covered with our Paklenica National Park Transfers.
What do we bring to the table?
Top-notch service with fixed prices
Experienced, professional drivers
Free cancellation up to 12hrs before the trip
Comfortable, and clean vehicles equipped with FREE Wi-Fi and AC
To ensure a safe, reliable, and quick trip from Zadar to Paklenica, book your transfer right away!
What to do in Paklenica National Park?
In the abundance of content that Paklenica National Park offers, it's difficult to decide on only one. That is why we'll describe some activities that you can do in the Park in order to make the most of your time and tailor your day in the Park to your liking.
Explore hiking trails
With nearly 180km of hiking trails, Paklenica National Park will take you up on an unforgettable adventure with the sights of untouched nature, the steepness of the paths, and marvelous landscapes on every corner.
Bring your most comfortable pair of shoes, lots of water and other necessities, because one afternoon is not enough to experience such beauty. Depending on which route you choose, you will need from 2 to even 10 hours of hiking.
The trails have marks on them so it's easier for you to find a trail that matches your skills. It's definitely necessary to be at least moderately fit since the roads are very steep and the entire ascent is physically demanding but rewarding.
Here are some of the most popular trails and the estimated time needed to reach them:
| | | | |
| --- | --- | --- | --- |
| TRAIL NAME | LENGTH | ESTIMATED TIME | DIFFICULTY |
| Velika Paklenica Canyon - Education Trails | 4,3km | 1hr 25min | Easy |
| Velika Paklenica - Manita Peć | 7,4km | 3h 10min | Moderate |
| Velika Paklenica - Lipova staza - Vaganski vrh | 22,4km | 9hr 50min | Hard |
Pro-tip for visiting Manita Peć:
The entrance fee from April to October is 30kn (3,98€) and contact the park administration before visiting to determine the opening hours. The temperatures there are always lower than usual, even in the summer so make sure to dress accordingly.
Rock climbing
With over 400 climbing routes to choose from, rock climbing in Paklenica National Park is always a fun activity.
The difficulties between the routes vary, however, you'll need some rock climbing experience before you take up one of the routes.
The most famous rock that attracts global rock climbers is Anića Kuk as it tears the sky with its 400m in height.
Apart from being the most famous rock, it's also the most challenging one in the Park. Those who dare take up on it are top-notch climbers with years of rock climbing experience. It is definitely not something a beginner could take on.
And for those who take pride in their competitive spirit, the Big Wall Speed Climbing competition is held every year on the first of May.
Can you stay in Paklenica National Park?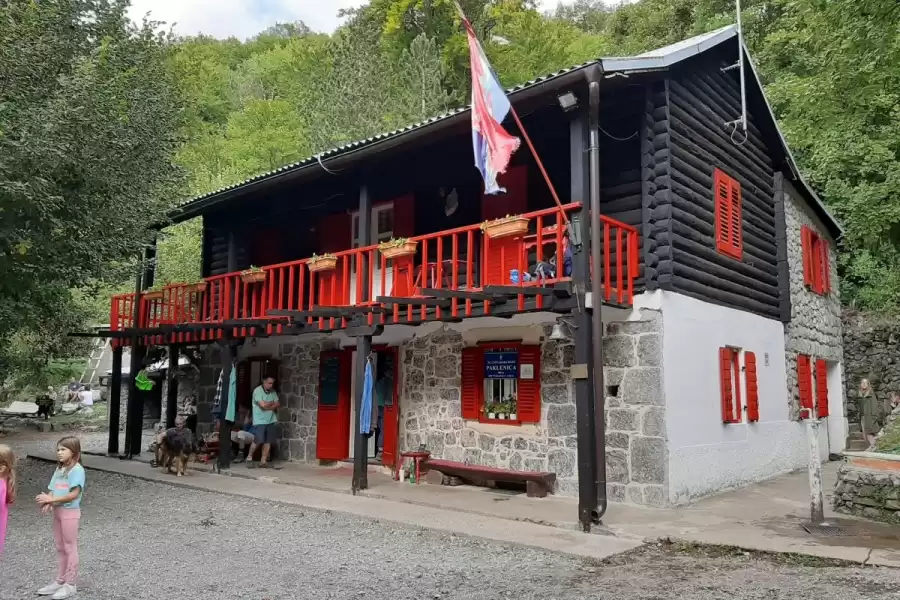 There are several accommodation options in Paklenica National Park, each proud of its own diversity.
If you plan your visit to the Park from March to November, you can spend the night at the "National Park" campsite, which is located on the coast, near the entrance to the Park. It's perfect for camping with tents or camper vans.
Another option is the Mountain Hut, which is located along the Velika Paklenica stream and is at your disposal throughout the entire year. It has 50 bed capacity and the rooms are shared. It's quite modestly equipped, so if you plan to spend the night there, we advise you to take your own sleeping bag and blankets. Despite this, it is a very nice experience and provides you with a one of a kind mountaineering experience.
In Starigrad Paklenica, there is Ramića Dvori, which is also a very good option to spend a quiet and peaceful night.
There are also hotels nearby - Hotel Vicko and Hotel Rajna.
Paklenica National Park tickets
The tickets are best bought online, on their official website, where the price lists are explained in detail.
And the easiest, most reliable, and fastest way to get to Paklenica National Park is by booking our private transfer service!
If you're tired of long drives, and ridiculous traffic, and just want to reach your destination as soon as possible, our Paklenica National Park Transfers are the way to go.