There are places in the Zadar Region that are not known even to all local residents. One of those places is Kudin most (Kuda's bridge) on the river Krupa. So we used the sunny spring weather and decided to visit it. Here is our story.
Nestled in the picturesque Zadar Region of Croatia, Kudin Most, also known as Kuda's Bridge, stands as a testament to the intertwining of love and architectural brilliance. With its captivating history and stunning design, this bridge has become an iconic landmark, captivating locals and tourists alike.
Where are we going
River Krupa springs from Krupa near Obrovac, and flows into Zrmanja near Sastavak. It runs under the southern slopes of Velebit, not far from the hamlet of Mandic, from two karst springs. Downstream from Krnjeza, the dugout canyon of the Krupe suddenly opens up and offers a view of the spacious sedge barrier called Deveterac.
Deveterac (cro: devet = eng: nine) is named after nine trawl cascades ending with a 13m high waterfall led by Kudin most (Kuda's bridge). Although the last two left ports were heavily damaged, Kudin most still defies the weather and high water.
The Romantic Tale
Kudin Most spans the crystal-clear waters of the Krupa River, connecting the small villages of Kruševo and Obrovac. Its construction dates back to the 19th century when the region was under Austrian rule. The story behind the bridge's construction is one that seamlessly combines love, determination, and the unyielding spirit of the local people.
Legend has it that Kuda, a young and talented man, fell deeply in love with a beautiful local girl named Milja, whose home was across the river. Kuda was determined to create a bridge that would not only be functional but also serve as a work of art. He spent countless hours studying architectural designs and engineering principles, pouring his heart and soul into his work. Kuda's vision was to construct a bridge that would not only withstand the test of time but would also be a testament to the love he shared with Milja. The bridge was built in drywall, at the turn of the 18th to the 19th century and is named after his creator Kude.
The construction of Kudin Most was a true engineering feat of its time. The use of local limestone, meticulously carved and fitted together, ensured both strength and beauty. The bridge's durability is a testament to Kuda's expertise, as it has withstood the test of time and continues to connect communities and inspire visitors to this day.
Kudin Most represent more than just a physical connection between two villages. It embodies the enduring power of love and the strength of the human spirit. The bridge serves as a reminder that love can overcome any obstacle and that the pursuit of one's dreams can create lasting legacies.
Delighted by the story and full of desire for vacation in nature, we decided to visit Kudin most on Krupa river.
Road to Golubić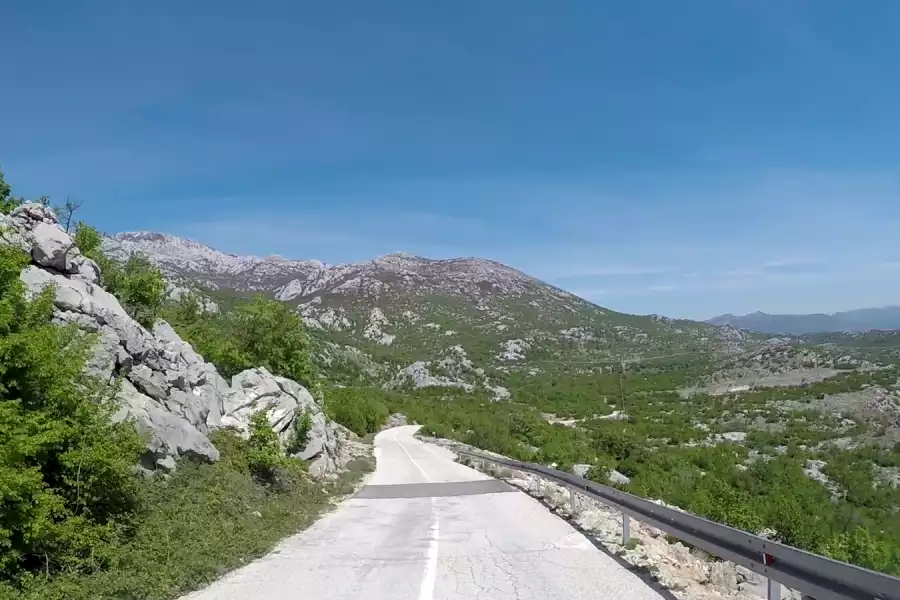 Well, the bad story is that you can't just sit on the bus and visit Krupa, but that is what makes this place even more interesting. At least you know that it won't be crowded when you come there. So your options are to rent a car or a motorbike and set out on the road or you can book one of the tours that include visiting Kudin most on river Krupa. Another way to visit Kuda's bridge on your own is to book a private car transfer that will take you to your destination.
Luckily we are locals :) and we have our own scooter (Beverly 250) so we just sat on it and began our adventure. The road that is leading to our destination is actually the old road to Zagreb. It follows the mountain Velebit through the rural part of the Zadar region way across the Maslenica bridge, then starts to "climb" up to the mountain. The road itself is God-given for a motorbike, fast enough, curvy, and full of amazing views especially when you turn to Golubić where there is almost no traffic.
The stunning scenery of the canyon of Krupa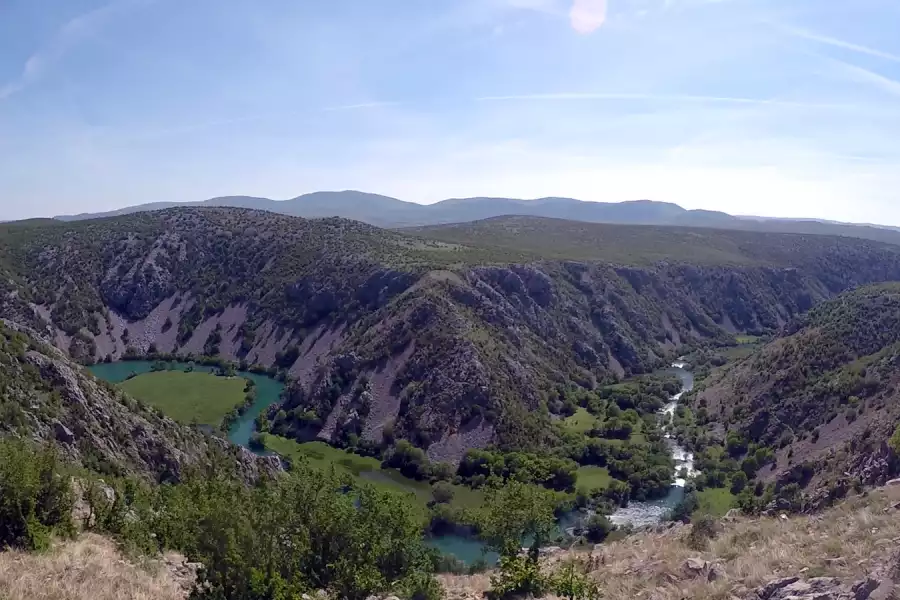 After an hour of driving, the asphalt disappeared and we were greeted by the stunning scenery of the canyon of Krupe. What a view! The steep path is leading us down the canyon where the landscape is tanned with low green vegetation. We ran down to see what is waiting for us at the end of the path. There it was above the torrent of water there was a small, but strong Kudin Bridge.
We sat and enjoyed the sounds of waterfalls, bird twists, and a light breeze. Good thing it was spring because river Krupa at that time of the year has the highest water level. Right next to Kuda Bridge, there is a massive meadow suitable for picnics. There are also a few paths that you can explore around. Some of them require climbing gear, so if you are into climbing beside waterfalls and the natural canyon of Krupa River can be your new playground. The temperature of the river is generally several degrees lower than the sea temperature, but during the hot summer days, it will very much "serve" as a refreshment.
End of a great day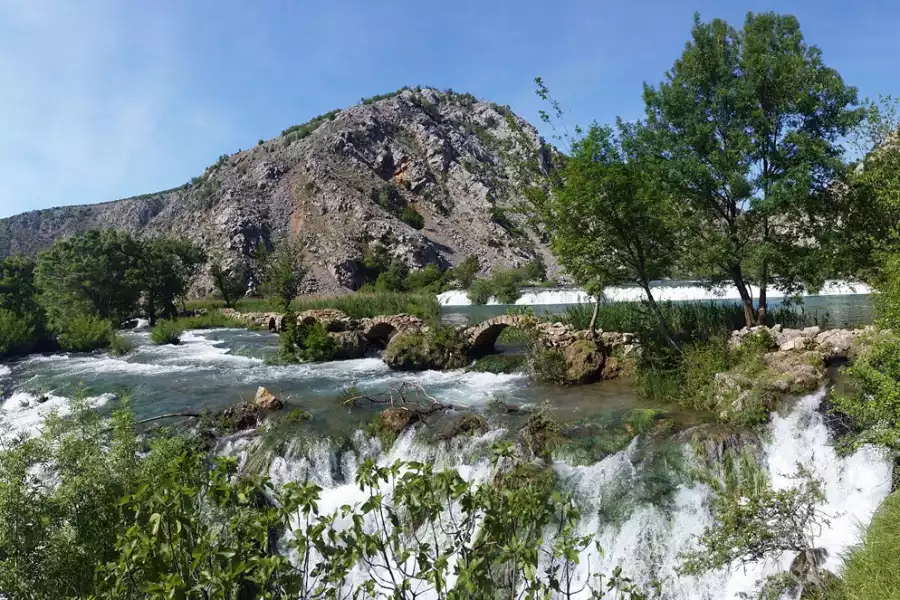 The sun was slowly fading and it was time to leave Krupa river and Kudin most behind us. Save some energy and water before you leave this place because climbing up the canyon isn't as easy as it seems (at least it wasn't for us ;) ).
Our visit to Kudin Most on the Krupa River exceeded all expectations, leaving an indelible mark on our hearts. It was a journey of discovery, a communion with nature, and a respite from the chaos of everyday life. We departed with a renewed spirit, carrying the memories of this enchanting place as a treasure that would forever inspire our longing for future adventures in the embrace of Mother Nature.
What to say besides, it was an amazing day. We have some tips to share with you if you're gonna visit Kudin most on river Krupa.
Make sure that you bring:
Equipment: backpack, camera :)
Clothes: T-shirt, long sleeve T-shirt
Footwear: walking shoes on rough terrain or boots
Sun protection: caps, sunglasses, cream
Food and drink all day: water (2 liters at least) sandwiches, fruits, dried fruit, chocolate, biscuits
Aftermovie