Discover the captivating beauty of Zadar! This town is a unique blend of history, culture, and natural wonders. It has everything you need: pristine beaches, ancient ruins, and divine sunsets. Book your trip and experience the magic yourself!
Zadar - the bliss of the Adriatic.
Zadar is a city with an old soul but a restless spirit. A place where the traditional meets the modern, taking only the best of each, and leaving the rest behind.
Visiting this town will feel like you're in a living historical postcard, as it whispers the tales of the forgone days on every corner. But make no mistake, this is not just a city steeped in history, it's also a thrilling hub of modernity. In spite of its abundant cultural heritage, Zadar is a visionary, looking ahead, offering a diverse range of modern experiences for visitors to enjoy.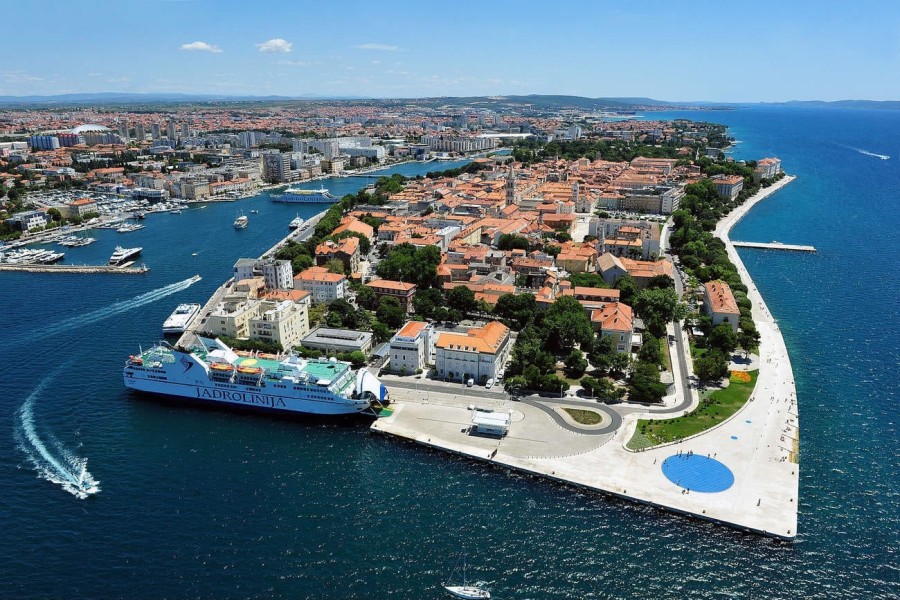 From divine museums and galleries to a thriving nightlife scene and top-notch dining options, Zadar has made an effort to welcome its tourists in style. And in this blog post, we'll guide you and highlight the top things to do in Zadar so that you don't miss out on the best!
Whether you're interested in exploring the city's rich history, experiencing its modern cultural offerings, or simply relaxing on its pristine beaches, you'll find something to your liking. Zadar is a city that combines the best of both worlds, seamlessly blending its old-world charm with modern sophistication.
1. Explore the historic old town of Zadar
Welcome to Zadar's Old Town! This is the place where history and culture come to life right before your eyes. This ancient city abounds in cultural heritage, and its Old Town is a true treasure trove of fascinating attractions. Whether you're a history enthusiast, an architecture lover, or simply a traveler looking to broaden your horizons, you'll surely be captivated by its mesmerizing sights.
Here are some of the must-visit Zadar attractions:
St. Donatus Church
Visiting Zadar doesn't count if you didn't take a picture next to the Church of St. Donatus!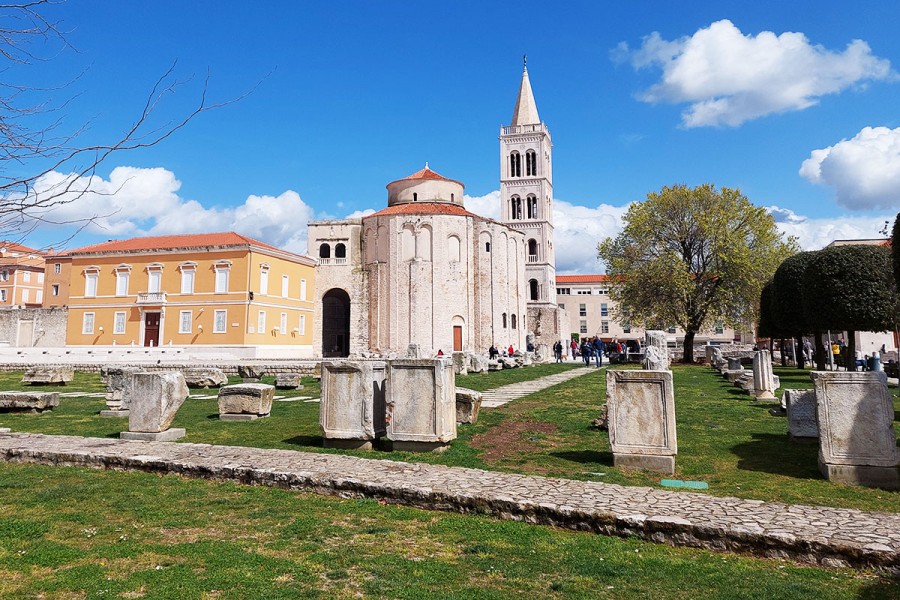 This pre-Romanesque church is living proof of the creativity and skill of its builders in the old days. Its unique composition is a mirror of the exciting historical events that took place throughout the years. The interior, just like the exterior, has a circular design, creating a lovely and peaceful atmosphere. If you wish to take a breath from the city noises, you'll surely be delighted by this beauty.
So take a step back to the 9th century and make sure to add this one to your must-visit list!
Roman Forum
The Roman Forum used to be the heart of the city, constantly buzzing with people passing by nonchalantly. You could hear constant chatter and witness all the important political events or social gatherings. Today, it has quite a different look, you can only see the remains of the 1st-century public square that make a peaceful oasis filled with lush greenery.
This is also one of the places where you'll get to capture the most astounding shots for your Instagram!
So take a stroll down this path and immerse yourself in the picturesque views of Roman times!
The Church of St. Anastasia
Discover the timeless beauty of the Church of St. Anastasia in Zadar! This historic church, dating back to the 12th century, is a representation of marvelous Gothic architecture. From its 3 magnificent portals, all the way to towering arches and two significant rosettes that have become a symbol of this church, St. Anastasia is a feast for the senses.
Take a step inside and get ready to be taken into a new dimension. Gaze up at the high ceiling that seemingly reaches the heavens, take a moment to admire the Corinthian columns standing proudly, and pay attention to all the little details that make this church a fascinating historical novel in its entirety.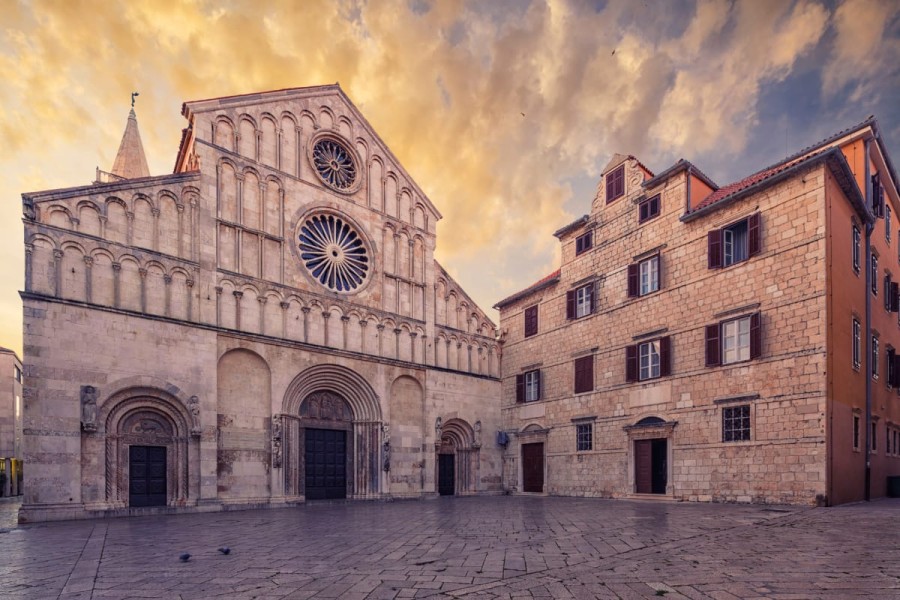 St. Anastasia is more than just a building, it's a window into the past and a reflection of the bygone era.
So make no mistake, visit St. Anastasia, and immerse yourself in its everlasting beauty!
However, Zadar Old Town is more than just these 3 attractions. A whole novel could be written about every street that lies in its heart, but these are the ones you can't afford to miss. Luckily for you, we've got a complete guide about attractions and historical places in Zadar that provides an in-detail description of every single attraction.
2. Visit the Sea Organ and listen to the music of the waves
Step right up and witness the magic of the Zadar Sea Organ! This is a specially-crafted masterpiece by the gifted Zadar architect Nikola Bašić.
Zadar Sea Organ is a unique musical instrument like nothing you've ever seen (or heard of) before. It's situated right by the city's gorgeous seaside, giving you an awe-inspiring 24/7 view that'll leave you breathless! No better way to spend the afternoon than to gaze at the infinite blue accompanied by the symphony of the wind.
How does it work? As the waves roll in, they activate the organ's pipes, creating a mesmerizing melody time and time again. If the sea could sing, this would be its voice - a soothing, mesmerizing tune that makes you feel at peace.
Come and enjoy the unique spectacle and indulge in soothing sounds. It will fill your heart and soul and you will feel like a new person! This is a once-in-a-lifetime performance you can't afford to miss!
3. Enjoy the color play at the Greeting to the Sun
Are you ready for a sunny good time? Pack your bags and head on to Zadar!
Picture this: It's a hot summer afternoon and the sun is just about to set. You're strolling along the mesmerizing seaside, feeling the sun rays on your skin and indulging in the stunning views. Suddenly, you see everybody gather around a circular solar panel on the floor. Then, as the sun starts to set, it looks as if the rainbow splattered across the floor and is reaching towards the sky.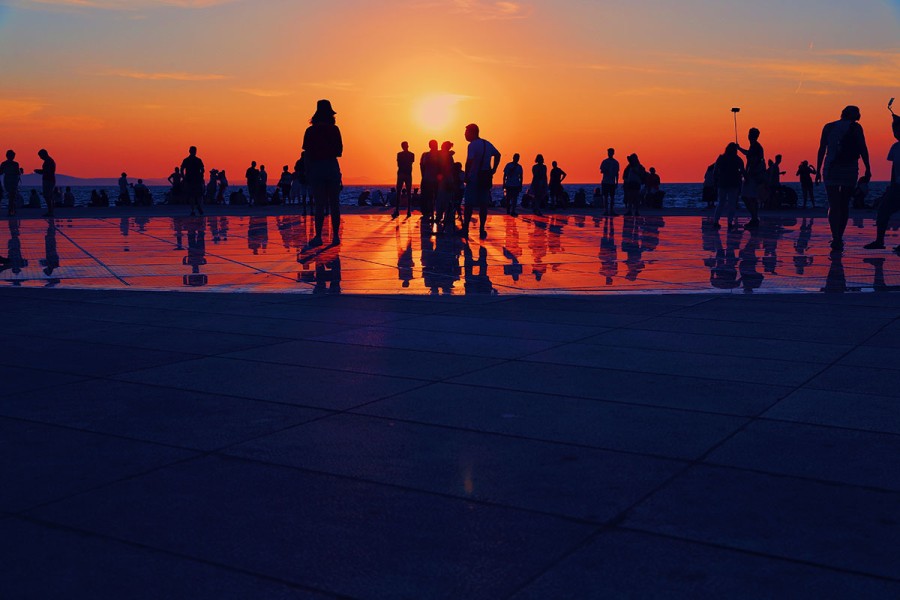 This isn't magic, It's the "Greeting to the Sun" installation, where the sun, sea, and light come together in a stunning display of magic.
Zadar truly is the home of the most beautiful sunset in the world. And if you want to enjoy the sunset like a local, 20 minutes prior to the sunset, get your delicious dollop of ice cream in the most famous Zadar pastry shop, Donat!
4. Visit the Museums to learn about the city's history
History buffs, pay close attention because Zadar has a trio of museums you won't want to miss!
Zadar's museums are a source of historical knowledge and guardians of its rich and vibrant culture. They provide a quick look into the past with all its highlights so that you can feel yourself in the role of a Zadar resident in the bygone centuries.
The Zadar Archeological Museum is a treasure trove of artifacts, with displayed pieces of ancient pottery, jewelry, and sculptures. This museum provides you with a glimpse into the daily life and traditions of the people who used to live there. It's one of the places you can't miss if you want to learn how this town used to breathe life.
Next up is the Museum of Antique Glass, where you can admire the beauty and skill of glassmakers from times long past. You'll see on display glass creations that are not only of impeccable value in Croatia but all over the world. From delicate goblets to elegant vases and creations with the most peculiar shapes, this collection is a feast for your eyes.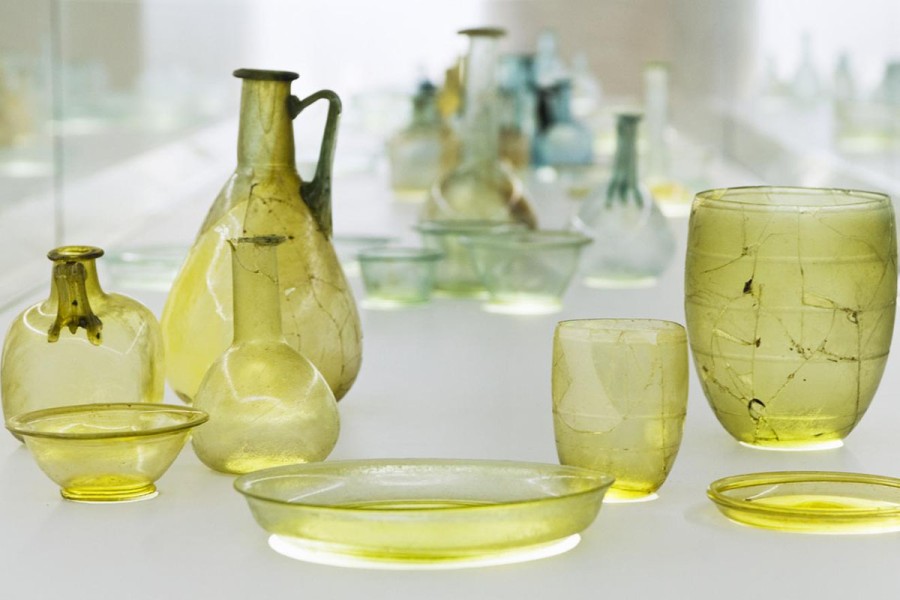 And finally, for a bit of mind-boggling experience, head to the Museum of Illusions. This engaging display will test your understanding of reality and leave you with multiple question marks hanging above your head. With optical illusions, holograms, and impossible rooms, it provides a fun experience to all age groups.
So if you want a fun day full of history, art, and mind-deceiving illusions, don't miss these three must-visit museums in Zadar!
5. Relax on the beaches of Zadar
Pack your bags and set sail to the golden, sunny shores of Zadar! This picturesque coastal city is home to some of the most stunning beaches in the world. Get ready to feel the sand between your toes and dive into crystal-clear waters as we explore the top beaches of Zadar.
First on our list is Kolovare Beach, a beautiful expanse of sand that's perfect for soaking up the sun. With crystal clear waters and a lively atmosphere, this beach is perfect for those who want to soak up the sun and break the monotony with a bit of excitement. The beach is surrounded by restaurants and bars, offering plenty of options for refreshments and anything you can think of. Literally - anything! Even if you happen to think of going for a massage, Kolovare has you covered.
Next up is Punta Bajlo Beach, a serene, peaceful spot and an all-time favorite among families with children. With loads of shade and plenty of room to play, this beach is sure to keep the kiddos happy for hours while you're sunbathing. It's away from the hustle of the city and not as crowded as the others. You'll love the lush greenery it's surrounded by, offering a scenic and relaxing atmosphere. So no matter if you want to simply relax in the sun, take a dip in the water, sip on cocktails or build sandcastles with the kids, Punta Bajlo Beach is your go-to destination.
If you're in the mood for some good old volleyball on the sand, visit Borik Beach. This lively beach will surely keep any adventure-seeker busy with its wide offer of water sports options. Nearby, you will find numerous restaurants and bars where to refresh yourself and quench your thirst after a long day spent in the sun. Don't miss out on this one, it's a true gem!
So grab your sunscreen, grab your favorite pair of sunglasses, and head to Zadar for the best beach holiday ever!
6. Try the local cuisine
Zadar is a foodie's paradise! The city boasts a delicious blend of Mediterranean with a Croatian twist, making it a delicious destination for any hedonist. If you're on a quest to tantalize your taste buds, we've got you covered with a list of must-try dishes in Zadar:
Start your gastronomic journey of trying top Mediterranean delicacies with Pašticada. Get to know the top flavor combinations with this mouth-watering, traditional dish that consists of slow-cooked beef served with soft gnocchi and a hearty red sauce. An absolute feast for your mouth!
Next off, try grilled seafood. The Adriatic Sea abounds with delicious seafood, so it's no surprise that grilled squid and fresh fish are must-try dishes in Zadar.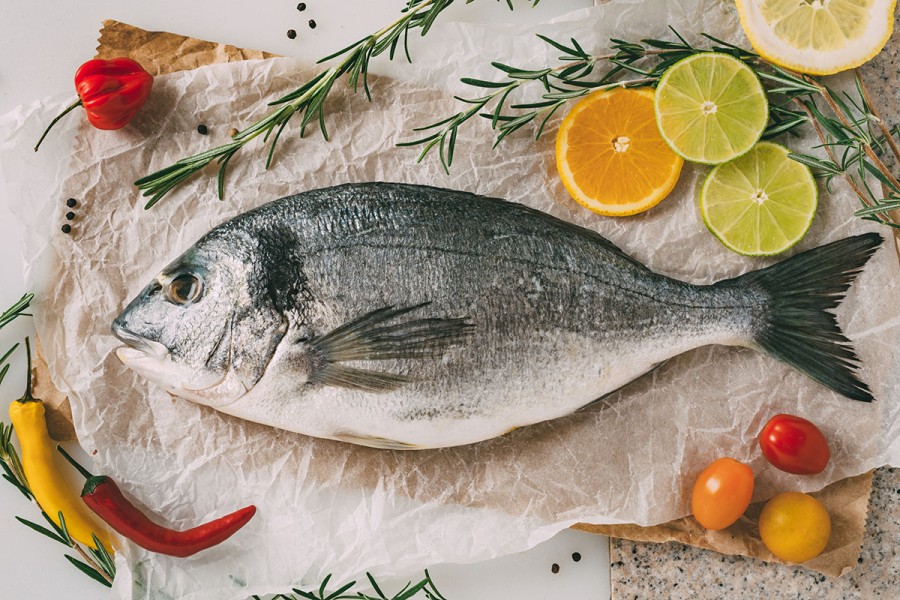 Just when you start thinking it can't get any better, try the festive Black Risotto. It's a unique, exceptionally creamy dish made with cuttlefish ink, giving it a deep, rich flavor. It's served with succulent squid for a truly unforgettable dining experience.
So, come to Zadar and taste the flavors of the Mediterranean! Whether you're a foodie or just love trying new things, this city's cuisine is sure to satisfy your cravings. Bon appétit!
7. Visit the nearby National Parks
The Zadar region is blessed with the most diverse nature for tourists to enjoy. This area abounds in many National Parks that offer a wide variety of experiences, suitable for everyone's taste. If you're looking to add excitement and diversity to your summer afternoons, visit a National Park!
Plitvice Lakes National Park
Get ready to be wowed by one of the most popular National Parks in Croatia. The best part is - it's only a short 40-minute drive away from the Zadar city center. This National Park will engage all your senses and fill you with a sense of serenity and flawless peace.
With its lush forests, rolling hills, and abundance of wildlife, Plitvice Lakes National Park is a true paradise for nature lovers.
To make your visit really count, sign yourself up for a Plitvice Lakes full day tour from Zadar guided by a team of professionals. They will take you through all the highlights, making sure that you enjoy every second of your time.
Krka National Park
Wanna have some fun in the sun? Head to Krka National Park! This beauty boasts the most beautiful luminescent waterfalls, crystal-clear lakes, and pools. Enjoy the divine nature as you take a stroll along the scenic trails, and admire the cascading waterfalls as they tumble down the cliffs. Don't forget to bring your camera to capture the breathtaking views!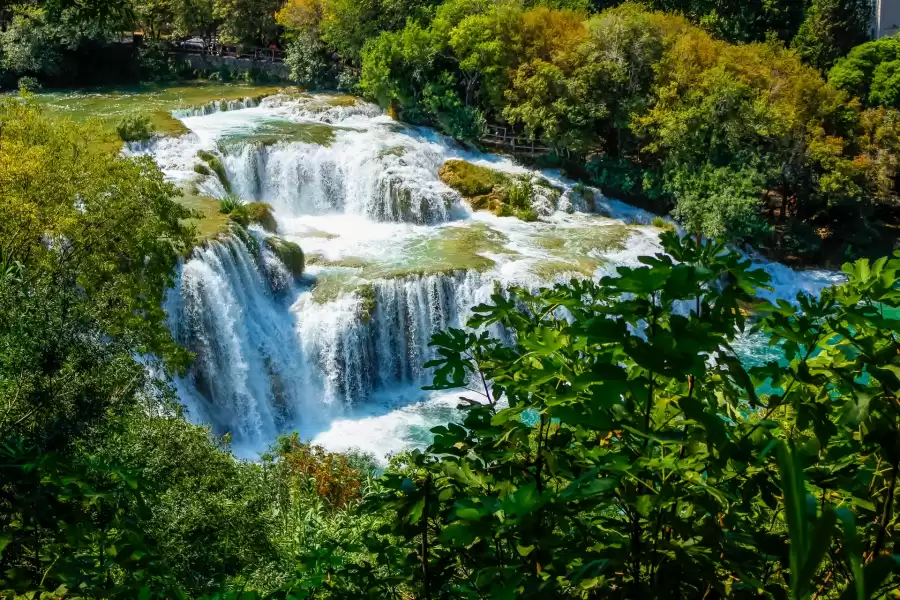 And of course, if you want to level up your Krka National Park experience, treat yourself to a guided full day tour! These professionals will make your visit worth your time.
Kornati National Park
Last but not least - Kornati National Park will be the highlight of your trip to Croatia! This is a unique cluster of islands scattered over the Adriatic like jewels. With its turquoise waters, rugged coastline, and lush vegetation, Kornati is a perfect destination for boaters and everybody who loves the outdoors. Make sure to bring your snorkel gear to discover what lies beneath the azure surface.
So set sail on the adventure of your lifetime and book your own boat tour to Kornati Islands to ensure an unforgettable day trip!
8. Take a boat tour from Zadar to nearby islands
The city of Zadar is an adventure in itself. But did you know that there are many more islands and islets in its vicinity that are just waiting for you to explore and get to know them?
Each one is unique and has a special vibe that you won't feel anywhere else. Whether you are in the mood for the karst and stone of the moonlike island of Pag, the beautiful greenery of the rugged Dugi Otok or you want to explore the lovely villages of Ugljan, you'll find something for yourself to enjoy. That's why it's a perfect option to book a boat tour so you don't miss this one-of-a-kind experience of traveling the Adriatic islands.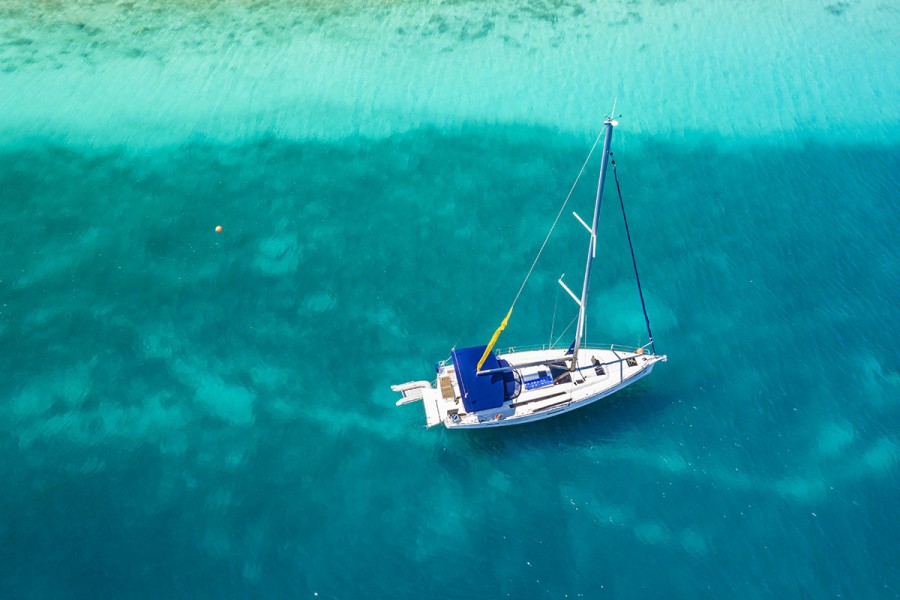 Our recipe for a perfect Mediterranean day is to spend a day on Dugi Otok exploring its unique features. You can refresh yourself in Lake Mir or take a dip on the popular Sakarun beach. And those who are a little more curious can try their snorkeling skills and peek under the sea surface.
And for those with a bit of an adventurous spirit, we recommend full day kayaking tours on Dugi otok so you can paddle your way through this astonishingly beautiful region.
Or course, some of you may want a little more privacy and freedom to explore the Zadar archipelago exactly the way you want, which is why we've made it our top priority to ensure exactly that! You can rent your own boat and wander off somewhere far, far away.