Travelling along the Adriatic coast towards the northern Dalmatia, between two historical cities of Zadar and Šibenik, you will come across a natural phenomenon – the two equally beautiful and yet so very different shades of blue.
Vrana Lake Nature Park (Park prirode Vransko jezero) is the largest natural lake in Croatia, abundant in plant and animal species, simultaneously creating exceptional scientific and ecological value.
Spread over 57km2, it's a lake that unifies the sweet and the salty, the stone and the mud, the sea and the shore. All the untouched and diverse natural beauties are in mutual coexistence, creating biodiversity unlike anywhere else.
It is a lake that never sleeps, full of life, energy, and vibrance given by the animal and plant species living there. Its greatest depth is about 5 m, and it extends over 13 km of untouched nature.
In the old days, the lake was much larger than it is now. A large part of the lake was drained to be turned into fertile agricultural land. The Mediterranean climate, plenty of sun, and proximity to water provided fertile ground for the development of agronomy in this area.
The drying up of wetlands has also happened all over Europe, resulting in a decrease in many bird's natural habitats. This is why the Vrana Lake Nature Park has value even on a European scale.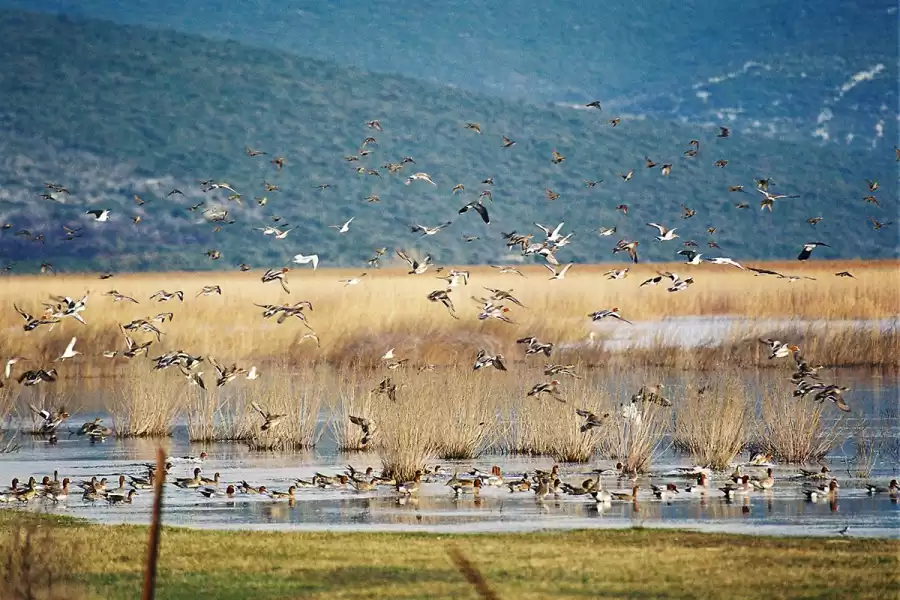 The most important characteristic of Vrana Lake Nature Park is that it's an ornithological reserve where over 260 species of birds, among which 95 are protected by law and many are endangered, have found their refuge. The Park has grown to become a mandatory stop for migratory birds in their migration from cold European regions to warm Africa and vice versa.
It received its recognition by listing as one of the "Important Bird Areas in Europe", as well as on the Ramsar list of wetland habitats of international importance.
The entire life cycle of birds can be experienced there like in a movie: you get to observe how young birds nest and how mothers take care of their young. Then watch their first flight and witness their growth into an adult bird.
However, Vrana Lake Nature Park doesn't only attract bird lovers as it's on the must-visit list of every fishing enthusiast. The water of the lake abounds in various freshwater and saltwater fish, the most attractive catch for fishermen usually being carp, catfish or pike.
The Prosika Canal, built in 1781, connects Vrana Lake to the sea, creating additional diversity, hence the saltwater fish in the freshwater lake.
The eel is also of special importance and is strictly protected in the area of the Vrana Lake Nature Park. Its life cycle is almost as fantastic as the whole story of the lake: it spawns in the Sargasso Sea, and the young eels reach Vrana Lake with the warm current, then return to the Sargasso Sea where they die after spawning.
Škorobić, Vrilo, Biba and Pećina supply Vrana lake with water, and the lake itself was named after the place of Vrana because the springs of Pećina and Škorobić are located there.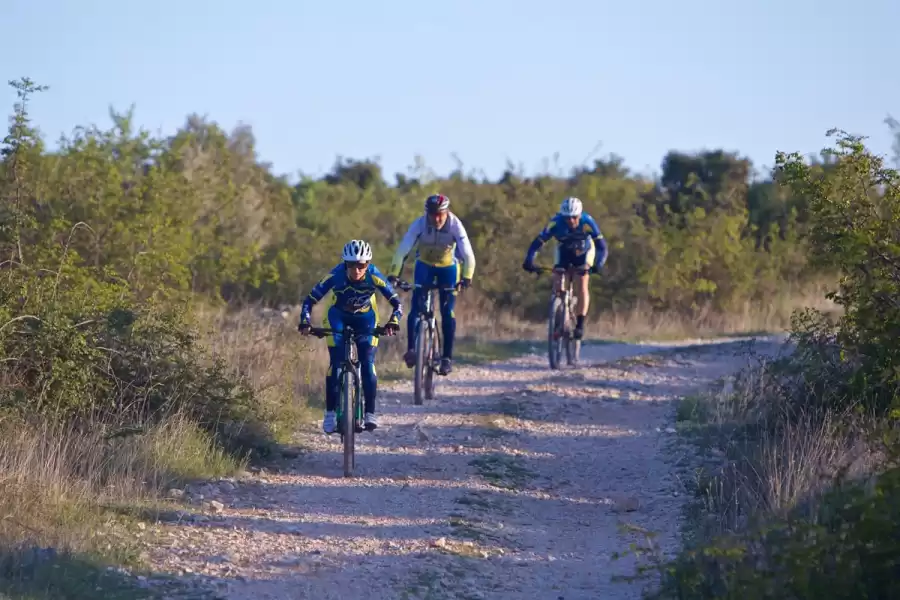 In addition to bird and fishing enthusiasts, Vrana Lake Natural Park also attracts numerous cyclists and nature lovers. The 50 km long macadam road is a big challenge, but once you reach the Kamenjak lookout, everything will be worth it. The viewpoint provides magnificent landscapes of the beautiful azure Vrana Lake, the Kornati islands scattered on the surface of the sea like diamonds, and a multitude of numerous islands and islets.
Because of its unique location, Vrana Lake has attracted numerous nations throughout history, including Turks, Venetians, Liburnians, Romans, and finally Croats. The current appearance of the lake gives a hint of its rich past, and somewhere, among the grass, mud and its depths, there are hidden words that merge into a vivid story and tell about hundreds of years of the lake's existence.
Where is Vrana Lake Nature Park?
Vrana Lake National Park is located in Zadar and Šibenik-Knin County.
This table represents the distance between Vrana Lake Nature Park and the most famous tourist cities in Croatia:
| | | |
| --- | --- | --- |
| Zadar | 41,8km | 1h |
| Split | 125km | 1h 30mins |
| Dubrovnik | 323km | 4h |
| Zagreb | 314km | 3h 20mins |
Regardless of which city you come from, visiting Vrana Lake Nature Park is a must. Even a longer ride is well worth all the natural beauties that are located in that one small but beautiful place.
What to do in Vrana Lake Nature Park?
In Vrana Lake Nature Park, you can watch birds, bike, hike, and have an amazing time on the Kamenjak lookout.
Birdwatching
Vrana Lake Nature Park takes birdwatching to a higher level due to the diversity of inhabitated species. If you plan to engage in this activity, we recommend planning your trip in spring or autumn, because those are the times of the year with the largest number of species present.
Birds are most active in the morning and evening, making them the most suitable part of the day for their observation. When observing birds, it's important to be quiet, so that they don't notice you and move naturally. If you are a beginner, but still want to see these graceful winged creatures, you can also book a guide to take you through the reserve and with his help locate as many species as possible.
Some of the most famous bird species that settled there: Pygmy Cormorant. (Microcarbo pygmaeus), Black-headed Bunting. (Emberiza melanocephala), Collared Pratincole. (Glareola pratincola), Grey Partridge. (Perdix perdix), and Stone-curlew

Kamenjak lookout
Kamenjak is the name for a viewpoint where you'll be able to capture incredible Instagrammable shots. There's an info center where you can buy souvenirs to forever remind you of the charms of Vrana Lake Nature Park.
There are numerous educational panels nearby that tell the story of this area, as well as a telescope so you're able to see even the most distant points.
For those who like to try new things, there's a tasting room with local traditional specialties that delight even the pickiest eaters. Indulge in the unforgettable flavors of local wine, cheeses and premium extra virgin olive oil with a view of the pearls of the Mediterranean.
Walking dogs is allowed between the paths to the viewpoint, but they must be on a leash.
Cycling
Cycling becomes an even better experience when you cycle along the paths that lead to Vrana Lake Nature Park. Several trails are adapted for beginners who have experience driving on gravel roads. One of those routes is "MTB 29 Vrana 1", and it measures 6 km in length.
These are some of the most popular with the best viewpoints:
| | | |
| --- | --- | --- |
| Trail | Length | Route type |
| Pakoštane-Vrana Lake | 41.8km | Loop |
| Kamenjak-Bašinka | 7,1km | Loop |
Hiking
The best way to explore everything the park has to offer is on foot, precisely through hiking. You will get to know all its natural beauties, perhaps note a few species of birds, and have the opportunity to enjoy one of the most beautiful views of the Mediterranean.
For both bird and hiking lovers, the 'Educational trail of the Birds of Lake Vrana' is a perfect choice because it encompasses the ornithological reserve. It's only 600m long and can be completed in 45 minutes of slow-paced walking. Ideal for families with children who want to learn something new while enjoying nature at its finest.
At the Kamenjak viewpoint, the 5 km long Botanical Trail begins, which will take you about 2 hours to complete. Just like any other, it will delight you with its beautiful landscapes and viewpoints.
Vrana Lake Nature Park tickets
You'll be introduced to their price list explained in detail by visiting their official website.
However, the tickets themselves can be bought online on their official webshop.
Treat yourself to an unforgettable adventure and visit Vrana Lake Nature Park!