Velebit is a rocky, stony mountain that separates the land from the sea in the very heart of Croatia. On land, Velebit takes on the role of a shield from violent waves, and to the sea, Velebit's a place where it suppresses all its untamed energy.
As the waves beat furiously against its cliffs, it accepts each blow calmly and quietly. And when it's had enough of the sea's fury, it expresses its anger with the strong slapping of bura wind, sending the waves in the opposite direction.
Nature Park Velebit (Cro. Park prirode Velebit) is the largest protected area in the Republic of Croatia due to its great biological diversity and preservation. Its importance is also indicated by the fact that there are 2 national parks (Paklenica and Northern Velebit) within the Park. Since 1978 it has been included in the UNESCO network of international biosphere reserves.
The glamorous Velebit massif is made of sedimentary rocks, limestone, dolomite, and Velebit breccia. You'll be treated to numerous displays of preserved karst forms such as scrapes, dolci, coves, hips, caves, and deep pits. Plant and animal life is equally diverse. Despite the harsh climate of Velebit, it's home to all the most beautiful and unusual plant and animal species. The most famous plants are Velebit's degenia (Degenia Velebitica), window bell (Campanula fenestrellata), Croatian sibirea (Sibiraea croatica), and animal species brown bear (Ursus arctos), lynx (Lynx lynx), wolf (Canis lupus).
That's why, if you're planning on visiting Velebit Nature Park, you should get ready for a spectacular experience that will take your breath away.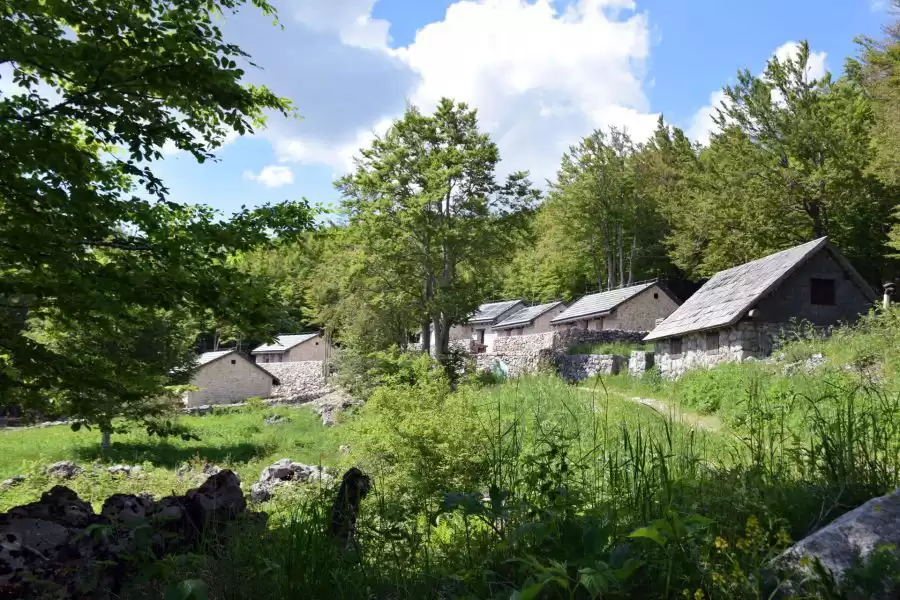 Culture
You can get an idea of what the life of people on Velebit was like in the olden days from the numerous remains of cultural monuments, sacred buildings, and mountain settlements.
Only the remains of shepherds' dwellings hint at the former lifestyle. These are small, stone houses that once served the needs of the seasonal arrivals and departures of the population and livestock in the mountains. Of the many, however, only the foundations remain.
There are also numerous well-preserved religious buildings such as the Shrine of Our Lady of Krasno, the Chapel of St. Roko (Radlovac), the Chapel of the Heart of Jesus (Brisnica) or the Church of the Mother of God (Veliko Rujno)
You can learn more about life itself from numerous educational trails such as Tereziana, Kuda's bridge and Starigrad Senjski - Donja Klada. More about their special features will be mentioned below, where the activities that Velebit Nature Park offers to its visitors are described in full detail.
Flora and fauna
Velebit Nature Park is the cradle and haven of numerous plant and animal species.
On that bulky massif, plants and animals live in harmonious coexistence, creating their own idealistic world protected from the intervention of humans. Together with majestic peaks, ancient caves, and nearby waters, they create a mystical, hypnotic oasis of pure nature that you have to experience to fathom.
Velebit Nature Park is often associated with the name "center of endenism" because out of 1854 plant species there are 79 endemic ones. The most famous endemic species are the Degenia velebitica, the window bell (Campanula fenestrellata), and the kitaibel primrose (Primula kitaibeliana).
Numerous meadows, pastures, and forests are located there as guardians of biodiversity.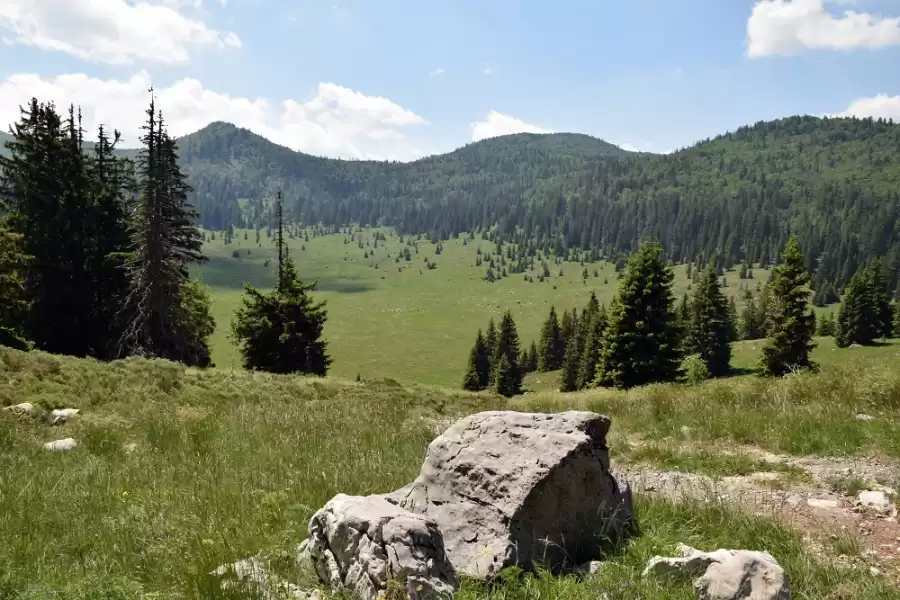 Most of the area is occupied by mystical beech forests. In the strict reserve of Hajdučki and Rožanski kukovi, 1,289 hectares of beech forest are spread, thanks to which they were included in the UNESCO World Heritage List in Europe. In addition to beech forests, beech-fir forests or mountain maple forests can also be found. Mountain maple forests are located in snow-covered areas, above 1650m above sea level.
Numerous animals such as the brown bear (Ursus arctos), the wolf (Canis lupus), and the lynx (Lynx lynx) also enjoy the wilderness of Nature Park Velebit, hinting at their presence with tiny traces.
The Velebit Nature Park area is included in the European Natura 2000 network due to the diversity of bird species, 18 of which meet strict criteria. Some of the most famous birds that can be recorded there are garden buntings (Emberiza hortulana), deaf grouse (Tetrao urogallus), and mountain woodpecker (Dendrocopus leucotos).
Caves
On the southern part is the majesty of Cerovac caves. They consist of 3 caves: Lower, Middle, and Upper caves. Of the approximately 7 km explored area, visitors of the Park can go through 700m. However, even those 700m are enough to absorb the charms that the cave world keeps hidden from the sun's rays. You'll get to know numerous archaeological sites and see the traces of a bear created by its movements.
Where is Velebit Nature Park?
Velebit Nature Park is located in Lika-Senj County, near the city of Senj. It divides the Adriatic Sea from the mainland. In the immediate vicinity are the Gacka, Lika, and Gračac field, as well as the Gacka, Lika, and Otuča rivers.
Due to its ideal location in the heart of Croatia, it is in the immediate vicinity of most Croatian tourist cities such as Zadar, Split, Rijeka, and Zagreb.
Since it is a really big nature park that covers 2,200 square kilometers, your drive to the Park will depend on which side you want to visit it from. Thus, the Paklenica National Park will be closer to the southern cities, and the Northern Velebit National Park will be closer to the northern cities.
Regardless of which side you decide to visit it from and what you want to explore first, Nature Park Velebit will transfer its charms to you and leave an unusual and extraordinary experience in your memory.
What to do in Velebit Nature Park?

Cerovac caves
Cerovac caves, the largest cave complex in Croatia, is located on the heights of the southern side of Velebit. Since they were discovered in 1913, 7km of space has been explored, while the first 700m is planned for tourist visits.
The complex consists of the Upper, Middle and Lower caves, while only the Upper and Lower caves can be visited.
In addition to having an exceptional natural value, they are also an archaeological site, and historical evidence of the human presence in the Paleolithic era.
The scenery that will greet you in the caves cannot be described in words. Stalactites, stalagmites, and stalagnates formed over thousands of years form a unique show-stopping performance, creating dreamlike sights on every corner.
Since the average temperature in the caves is between 5 and 8 degrees Celsius, we recommend that you dress warmly if you're planning your visit there.

Zavratnica bay
Where the sea kisses the white stone of the canyon cliffs with its azure, the stunning Zavratnica bay is located, not leaving a single visitor indifferent.
It is a sight that everyone must see at least once in their life: an abundance of colors, life, stone, and otherworldly scenes merged into one. Some visitors even say that it seems as if nature breathes differently there. Everything is more beautiful, easygoing, and peaceful.
You can get to this beautiful bay from Jablanac by footpath along the sea or from the village of Zavratnica, following the hiking trail.
Its 900m long, up to 150m wide, with a great biodiversity of as many as 129 plant species.
The sights over there are so alluring that they even inspired numerous Croatian writers with its charms, including the famous Vjenceslav Novak.
It is a bay that you must not miss.
Educational trails
There are 4 educational trails that you can walk through and find out numerous interesting facts about the Park in one trip while enjoying the most beautiful views of Croatia.
Terezijana
The educational trail of Tereziana traces its roots back to 1786 when the Austro-Hungarian road was built to connect the towns of Gospić and Karlobag.
Through Tereziana, you will have the opportunity to learn firsthand about the fantastic Croatian legends that were once told from generation to generation. One of the most famous is the story of the giant of Velebit, and if you'd like to know more about it- we recommend visiting Tereziana.
As you walk through the paths, all the stories about Velebit mythology will come alive in your imagination and you'll be able to visualize mystical creatures climbing the trees, sneaking along the paths, and lurking around the corner.
The trail starts at Baške Oštarije and descends in the direction of the village of Konjsko. You can choose between 2 tours: longer and shorter.
The longer tour is 3.5 km long and it takes 2.5-3 hours to complete. For the most part, you'll be passing through a negligent road, and for a smaller part, through forest roads.
The shorter tour measures 1.5 hours in length, and the tour lasts approximately 1.5 hours. You will mostly pass through forest roads, and in some parts hiking trails.
Before you set off on your Tereziana adventure, take suitable clothes and shoes with you and check the weather conditions. The best time to visit is from April to November.

Kudin most - Kuda's bridge
Buckle up and enjoy the ride because you're about to witness something out of this world.
The story of the bridge begins when Kuda fell in love with Milija and built her a bridge as a symbol of his love. He spent 2 months tirelessly building the bridge, only to finally propose to her there, wanting to perpetuate their love.
The educational trail Kuda's bridge offers views of the most beautiful part of the glistening River Kupa and its 19 glittering fairytale-like waterfalls.
The most famous waterfall is located above the Kuda's Bridge. It consists of 9 travertine cascades that end with a ten-meter waterfall.
By passing through the bridge and the entire educational trail, you'll feel a fragment of Kuda's love for his Milija, and so the tour will become even more beautiful and gratifying.
The trail itself is 1.6 km long, and the tour lasts 2 hours.
The only way to witness it is by visiting. So make sure not to skip the educational trail Kuda's bridge while in Croatia.
Starigrad Senjski - Donja Klada
Passing through the educational path Starigrad Senjski - Donja Klada, you'll go through a ten-kilometer path surrounded by colorful landscapes, bays, and fishing villages.
You'll get to see numerous dry walls (Cro. suhozid) made to defy weather conditions, as well as stone houses, scarce vegetation, and karst as an eternal ornament of that climate.
The tour can be started from Starigrad or Donja Klada, and the trail itself is intended exclusively for pedestrians.
Zavratnica
Zavratnica isn't just a remarkable bay, but an educational trail as well.
The length of the trail from Jablanc to Zavratnica is 1.8 km, and the village of Zavratnica-Zavratnica is 800 m.
It is a short tour that lasts only about 15 minutes, but is well worth a visit.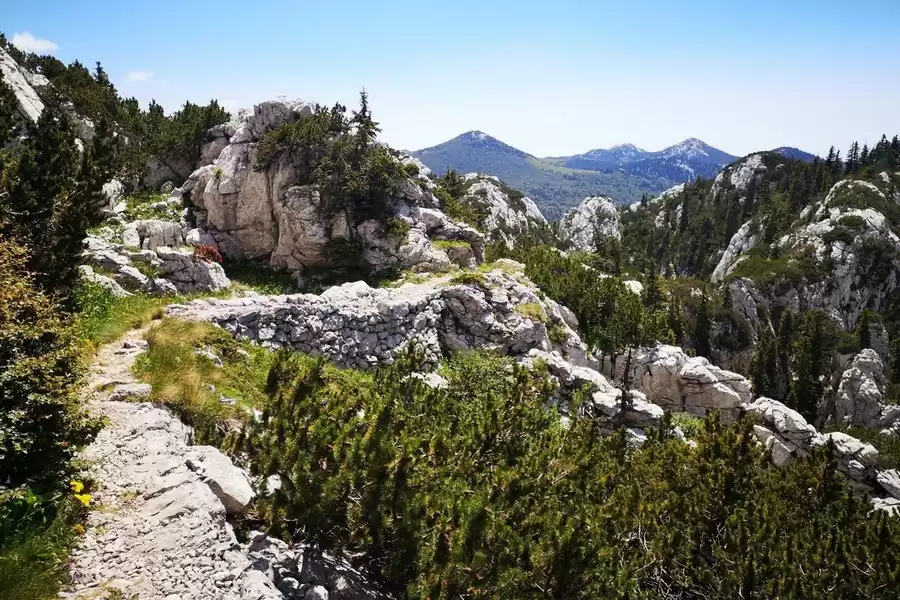 Hiking
Hiking is one of the most famous and exciting activities that you can experience in Nature Park Velebit.
Needless to say, before heading to any hiking trail, you should always dress appropriately, have enough water supplies, as well as stay up to date with the weather conditions on Velebit.
Here are some of the most exciting hiking trails we've carefully picked out for you to enjoy:
| | | | |
| --- | --- | --- | --- |
| Trail name | Length | Difficulty | Availability of drinking water |
| Štirovača – Jovanović padež – Šatorina | 8.5 km | Medium | Štirovača spring |
| Premužićeva staza – Ograđenica – Šatorina | 3.4 km | Easy | No |
| Prezid – sklonište Crnopac – Crnopac | 9.2 km | Hard | No |
Alpinism and climbing
Kukovi of Nature Park Velebit are on the must-visit list of every experienced alpinist. Therefore, if you are an adrenaline-junkie alpinist who happened to be in Croatia in the period from April to November, don't miss out on this opportunity.
Get to know the wonders of Agin kuk, Rujičin kuk and Čelina kuk and you'll feel their wilderness as it pumps through your veins just like oxygen.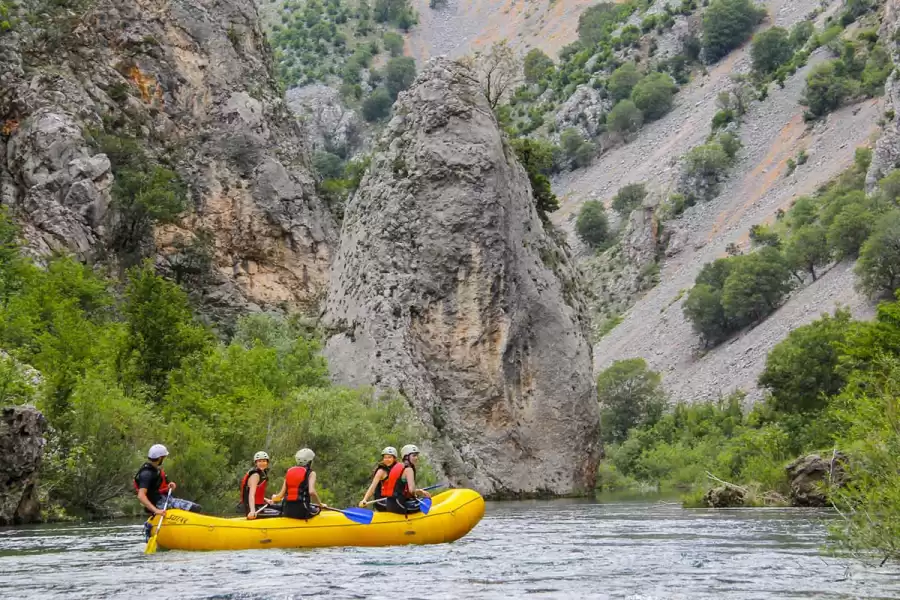 Rafting and canoeing
Experience the violent flow of the Zrmanja River in the best possible way: through rafting and canoeing.
This activity is adapted for beginners as well as for those of a bigger rafting experience.
Needless to say, take sports shoes and clothes, sun protection, and a bathing suit if you'd like to take a swim in the water.
Enjoy the beautiful scenery, seize the day and treat yourself to a new and exciting rafting experience in Croatia!
Cycling
Choose one of the 12 bike paths and head for an afternoon of an exceptional adventure.
We do not recommend cycling through Nature Park Velebit if you're a beginner, and it is necessary to have your own bike, as renting one isn't available.
You'll get to first-handedly experience the wildness and pageantry of Nature Park Velebit, as well as its exceptional biodiversity. You will understand why Velebit is such a valued place even for the most imposive cyclists as the entire experience of it will make you want to come back again and again.
Velebit Nature Park tickets
The official price list can be found on the official Nature Park Velebit webpage.
However, if you wish to purchase your ticket in advance, you can do so on their official webshop.
Nature Park Velebit truly is a majestic place best experienced in person.
Don't miss out on the opportunity to uncover the secrets that lie within the mountains and visit Velebit Nature Park!