Telašćica Bay is located in the central part of the eastern coast of the Adriatic Sea, in the south-eastern part of the island of Dugi Otok. For its extreme beauty, richness and importance, this bay surrounded by 13 islands and islets, together with 6 islets inside the bay itself, was proclaimed a Nature Park in 1988.
Telašćica Nature Park - a place where the sea, stone, and forests merge into one.
The azure sea grips the stone tightly with its grasp, while the colossal forests kiss the sky with their height, as if they were actors in a romantic play. It's a place where nature and all its wonders create a delicate harmony, followed by their genuine sounds.
Simply amazing.
Telašćica Nature Park (Park prirode Telašćica) is situated in the southern part of the Republic of Croatia, on a picturesque island Dugi Otok (eng. Long Island). It's a cove that was declared a Nature Park in 1988 due to its uniqueness. Numerous district islands (13), as well as those located within the bay itself (6), create compelling views that are so easy to get lost in.
Biodiversity spiced up with a few endemic species, scenic geological phenomena, and the spectacular seabed,create an unforgettable experience for every tourist.
Highlights of the park
Nature Park Telašćica has 3 natural phenomena: the charming Telašćica cove, the slopes of Dugi Otok ("stene", "strmici"), and the salty Mir lake.
Telašćica cove
Telašćica cove is appreciated widely across Croatia. It's known as the safest, and most beautiful natural harbor in the Adriatic sea.
Nature Park Telašćica was named after it, while the name itself originated from a latin term "tre lagus" which translates to "three lakes". The three parts that make the cove are Tripuljak, Farfarikulac, and Telašćica.
The cove is far from the bura and jugo's strong winds' reach, making iit one of the best protected natural harbors in this area.
Many animal and plant species have found refuge among its rocks, trees, and sea, creating otherwordly scenery on each corner.

Strmac
Strmac, also known as "stene" of Dugi Otok, proudly rise to unattainable heights.
On the island of Grpašćak, they even reach a height of 161m.
Just imagine that view. Every single island and islet laid before your eyes like characters in a movie - each with its own story. And as they remain seemingly still, there's a turbulent past written among the branches of their trees, waves of the sea, and footprints on land.
If you find yourself gazing at strmac from your vessel, make sure to turn the engine off, and you'll be greeted with a compelling perfomance by the dolphins.
Corals (even red corals), sponges, urchins, various fish, and glowworms can be found there, enjoying the purity of the seawater. Peregrine falcon (Falco peregrinus) can be spotted on the rocks, as well as Eleonora's falcon (Falco eleonore). Those two species are responsible for Telašćica's inclusion in the Important Bird Area - IBA.
Mir Lake
The picturesque Mir Lake is a salty lake. Yes - you've heard it right, salty. Even saltier than the sea.
Because of that, biodiversity isn't as prominent as it is in the rest of the Park, but it doesn't make it any less special. Quite the contrary, as a matter of a fact.
During the summer, the lake's temperature rises above the sea temperature, while in the winter, it's lower due to its depth (6m).
Don't miss the opportunity to take a swim in the lake while visiting Telašćica Nature Park! It will greet you with arms wide open, ready to take you upon an exciting adventure.
Taljurić
"What's that flagstone-looking thing in the ocean?", you may be thinking. Believe it or not, that's actually a flat, 3m tall island!
The name comes from the unique appearance of the island: it resembles a round and flat chopping board "tagliero" in Venetian dialect.
The island is completely bare - no plant life to be seen at all. This is so due its height of 3m.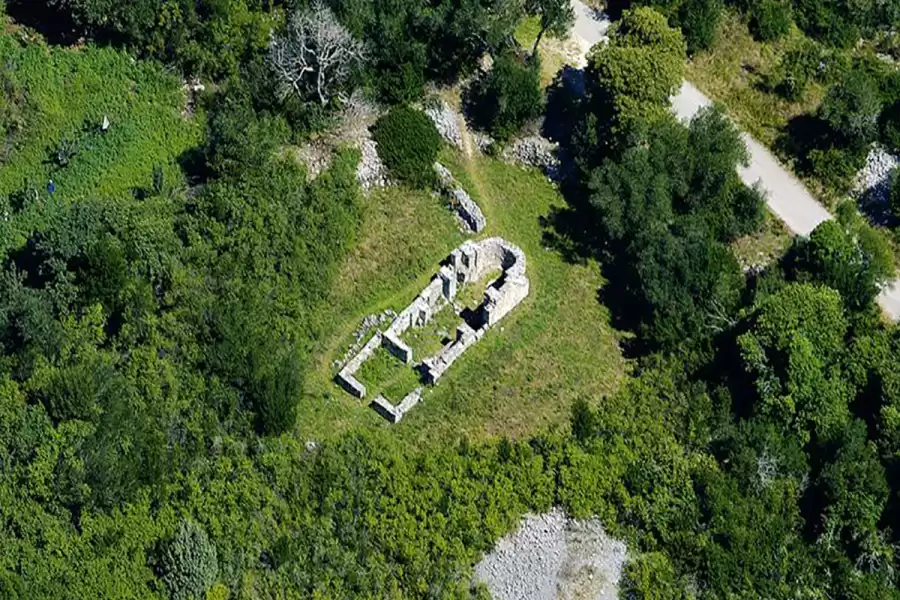 History and culture
Among the remains of old buildings, churches, forts and ruins, it's possible to feel the presence of historical stories that are inaudible to the human ear. Every battle the area has seen, every friendship made on those grounds, every love perpetuated and ended.
The area of Telašćica has been inhabited since prehistoric times, and every other era - from Antiqua to the Middle and Modern Ages, has left its mark.
The remains of the graves of the old Liburnians, as well as the dry stone forts found on the southeast side of the island, speak of life in prehistoric times.
Antiquity left its mark in the form of the remains of various buildings such as the remains of the ancient complex in Mala Proversa, the Roman quarry in Kobiljko, the late antique fort on Koženjak and the ancient sarcophagus.
The Early and Middle Ages left behind numerous churches such as the church of St. Luke, church of St. John and the church of St. Anton Abbot.
You simply can't talk about the culture and history of Telašćica without mentioning the Grapašćak fortress, which was once a military scout of the Austro-Hungarian navy.
Where is Telašćica Nature Park?
Telašćica Nature Park is situated in the southeastern part of the Dugi Otok island, in the central part of the Adriatic sea. There are also 3 National Parks situated close to the Dugi Otok Island: National Park Paklenica, National Park Northern Velebit, and Plitvice Lakes National Park.
Due to its location, it's in immediate vicinity of numerous Croatian tourist cities, such as Zadar, Šibenik, Split, Nin, and so on. Just take the catamaran from Zadar and you'll reach Dugi Otok in no time.
The closest town to Telašćica Nature Park is Sali, which is a small municipality on Dugi Otok.
So if you happen to find yourself in Dalmatia, make sure not to miss Telašćica Nature Park!
What to do in Telašćica Nature Park?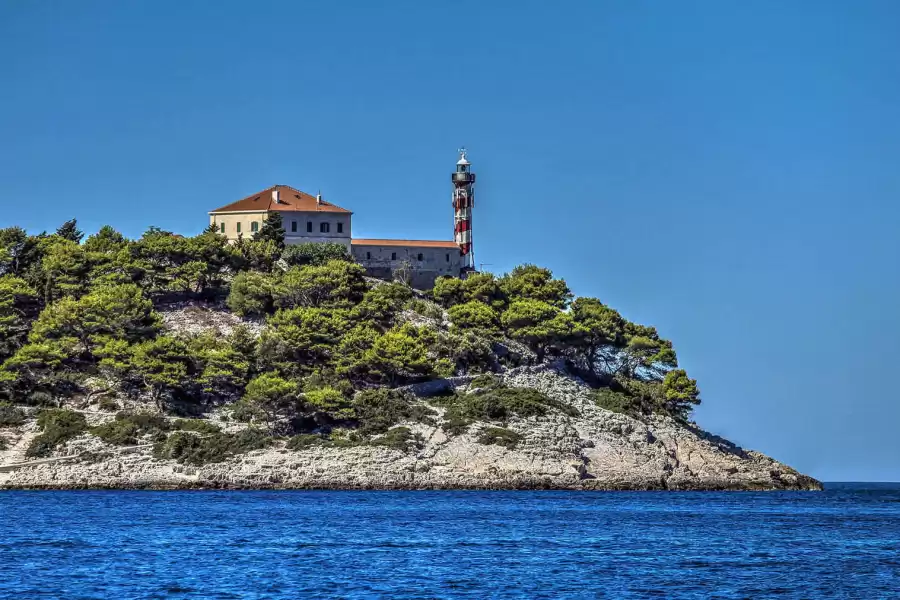 Lighthouse on sestrica vela island
Sestrica Vela is a small, but charming island that's a home to the magnificent Trajer Lighthouse that dates back to 1876.
Reaching the lighthouse is an adventure of its own - you'll have to walk through an old forest. It's a very fun experience that will definitely stay engraved in your memory. Don't forget to take pictures in the woods, they make a great photo background!
To visit the lighthouse, you'll have to book your your trip in advance, so don't forget about that little detail.
Donkeys
Donkeys - Dalmatia and donkeys go together like peanut butter and jelly. Croatia even has its own indigenous breeds, and the ones inhabitating Dugi Otok are protected.
In the past, they were faithful companions of many Dalmatians, helping them carry their burdens. Now this is no longer the custom with the appearance of technology the process more efficient. However, Dalmatians still love their donkeys even though their population is decreasing year by year.
If you're lucky, you may even spot one! Although they are used to being around humans, make sure to have a friendly approach and don't creep upon them.

Fort Grpašćak
Grpašćak - a fort with compelling view.
Situated on the highest slope of Adriatic, 161m above sea level, there's Grapšćak sitting comfortably near the very edge. There, you'll be able to see all the gems of Telašćica Nature Park in one place: salt lake Mir, Telašćica bay, the cliffs ("strmac") of Dugi Otok, as well as the vast and spacious Adriatic sea, inviting you to take a swim.
The fortress has a rich history - it used to be a military fortress of the Austro-Hungarian Monarchy. An interesting fact is that it used to contact other strategic places using Morse code.
The fortress served its purpose to the Royal Yugoslav Navy, Italians and Germans, as well as the Croatian Navy.
The fortress is also an Educational Center with several exhibitions which take about an hour to explore (no additional entrance costs). It can be reached either by car, on foot or organized transport by the Park.
The transport is organized from the pedestrian entrance Dolac or from the Mir Bay, and is also free of charge.
Educational trails
There are several educational trails you can choose from, but the most popular is Lake Mir educational trail. It encompasses the lake and measures 2.2km in length - just imagine the wonderful scenery as you walk by!
Another choice could be the Mir Bay-Mir Lake trail that covers 2.5km.
Educational trails are definitely a very fun way to spend the afternoon. You'll get to learn interesting facts about the Park while enjoying the nature and gazing at the most beautiful landscapes.
Underwater educational trail
Just when we thought Telašćica educational trails couldn't get more fun, they introduced underwater educational trails.
In Tripuljak bay, there's a 200m deep trail that takes you to the underwater realm and shows you all its highlights. It takes 30mins to complete, and you can also get an audio guide that's available in 4 languages. Don't worry about the equpiment as it can be rented.
You don't have to be a professional to take part - as long as you can swim and have no trouble wearing a snorkel and a mask, you're good!

Swimming in the Mir lake
Swimming in the Mir lake is definitely a must when visiting the Park. It's very popular among visitors, but not too crowded so you can still enjoy your privacy while sunbathing and taking a swim.
After you've filled your batteries by swimming and sunbathing, you can explore the area. There's a small interesting forest you can take a walk in nearby, or you could just walk around the lake. That makes a great way to spend your time as well!
Telašćica Nature Park tickets
The tickets can be bought at several places:
They can be bought at the Park area from the rangers (also known as Nature Guards), agencies, or our favorite: on their official webshop.
For more detail on the prices, you can check their official price list, where everything's explained in full detail
Telašćica Nature Park is a wonder of nature anyone should witness at least once in their life. But trust us - if you visit it once, it will make you want to come back again and again!
So take yourself and your loved ones upon a thrilling adventure and visit Telašćica Nature Park!