Krka Waterfalls National park is a stunning collection of well preserved nature and historical sights. The river and waterfalls continually produce natural phenomena, such as travertine formations that are a slow process of calcium-carbonate sedimentation.
Krka Waterfalls National Park (Cro. Slapovi Krke) is a magical place of gleaming waterfalls and the most charming sections of the Krka River located in Šibenik-Knin County, not far from likable Dalmatian towns - Šibenik, Zadar and Split.
With its seven waterfalls, the tallest being 32m tall, Krka Waterfalls National Park is a natural and karst phenomenon that astounds even the most skeptical visitors.
The most popular waterfall, Skradinski Buk is also one of Croatia's most loved tourist spots and a must-see location for everyone who wishes to relax surrounded by intact nature at its finest. It's a collection of 17 waterfalls that create a heavenly spectacle with their performance. Swimming used to be allowed until 2021 when it was prohibited in order to preserve the purity of the waters.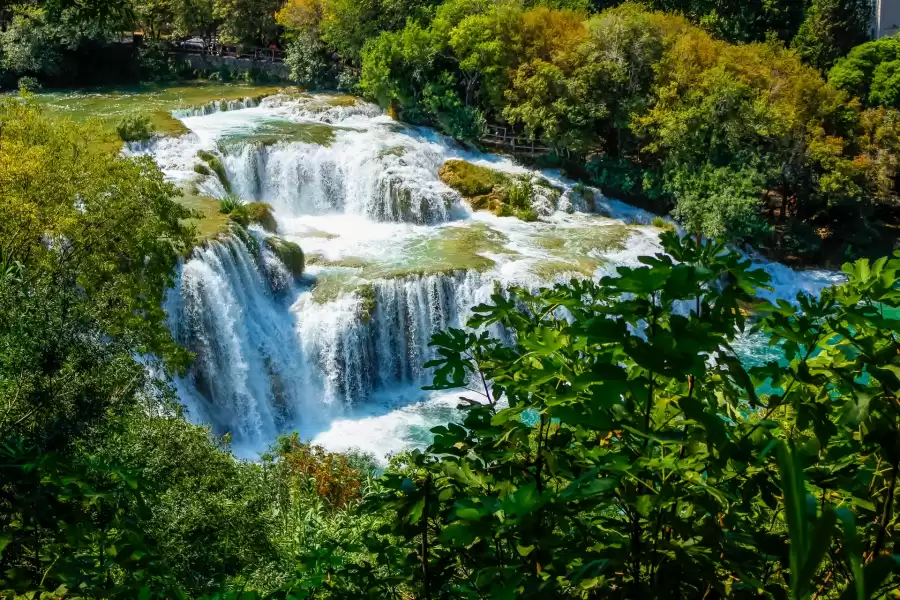 Apart from Skradinski Buk, there are other highlights of the park such as the small island of Visovac and Roški Slap Waterfall.
The waterfalls may be the star of the show, but those 109 km² are also home to 6 medieval fortresses, and over 1000 plant and animal species. Such a wide variety of both flora and fauna, along with other attractions, is what makes Krka Waterfalls National Park so unique. Over 200 different bird species make it a must-visit spot for every bird watcher.
The magnificent waterfalls provide a great charm and grasp your attention, while the rest of the park steals your heart in one visit.
At Krka Waterfalls, you can also find out what was the life of old Croatians living by the river like by visiting an ethno-village.
The ethno-village takes you through the daily activities of Croatians in the Šibenik-Knin region and immerses you in their traditional way of life. Even today, people live in harmony with nature thanks to the hydroelectric power plants that supply the area with green energy. The Bronze Flower of Europe was awarded as recognition for the work done in rebuilding the ethno-village in 2006.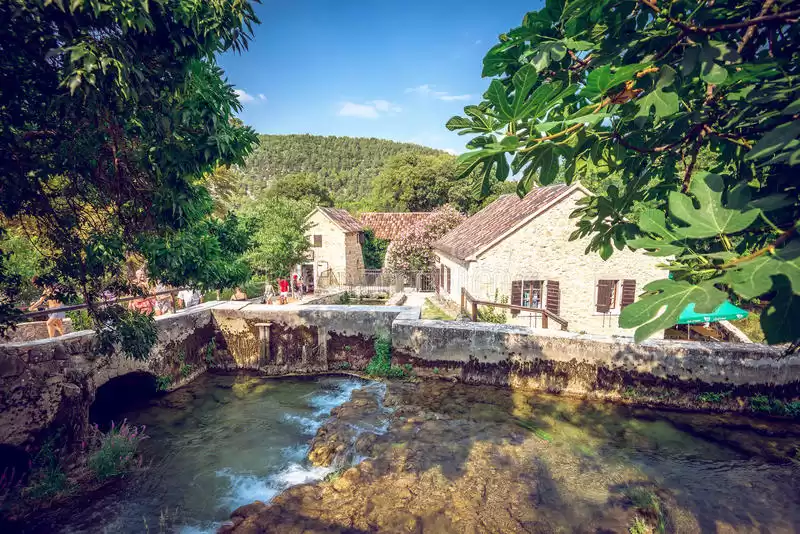 Where is Krka Waterfalls National Park?
Krka Waterfalls National Park is located in the very south of Croatia, in the vicinity of an old Dalmatian town, Šibenik, in the Šibenik-Knin County.
Because of its location, it's a short drive away from many Dalmatian tourist cities, such as Zadar and Split, or even some islands such as Pag, Ugljan, or Pašman.
However, no matter where you are, don't miss out on the opportunity to visit the Krka Waterfalls National Park as it's one of the most famous tourist destinations in Croatia.
The table represents the distance between Krka Waterfalls National Park and major cities:
| | | |
| --- | --- | --- |
| Zadar | 73km | 1hr |
| Split | 92km | 1hr 15 mins |
| Zagreb | 325km | 3hrs |
| Dubrovnik | 277km | 3hrs 20mins |
What is Krka National Park known for?
The Krka Waterfalls National Park is best known for Skradinski Buk, a nature masterpiece consisting of 17 waterfalls that flow into each other, creating an ongoing show accompanied by relaxing sounds with a therapeutic effect.
Moreover, Visovac is a dreamy island surrounded by a turquoise sea that can be visited by boat from Skradinski Buk. There's Franciscan monastery founded in 1445 that will grasp your attention, as well as some well-preserved artifacts and a library.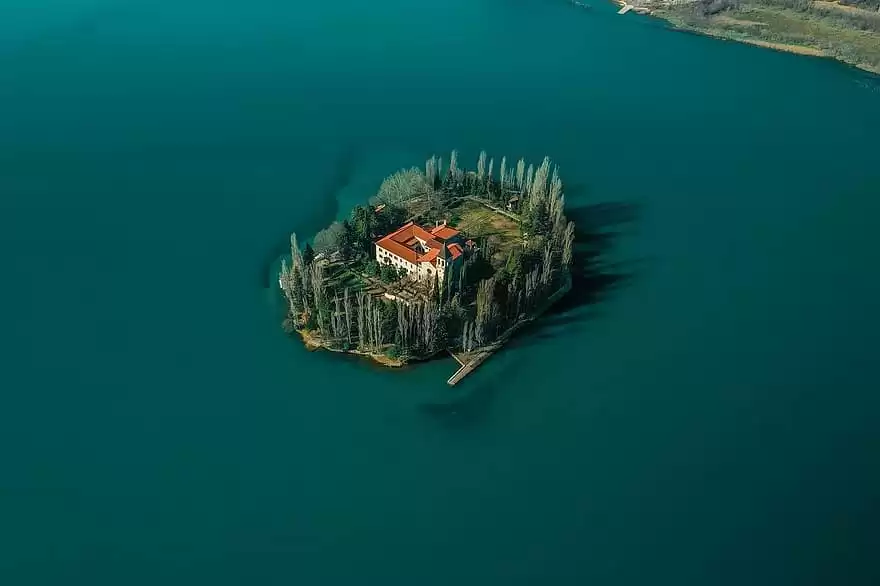 The quiet little island will evoke peace in you with its silence, while the azure sea and green forest will make you want to come back again and again.
The Roški Waterfall is another must-see feature within Krka Waterfalls National Park with its 12 waterfalls. The largest waterfall measures 22m in height and 60m in width. You can explore the area by a walking trail where you'll encounter many marvelous sights. The easiest way to reach it is by boat, just like on the island of Visovac, although the waterfalls can be reached by a public road as well.
How many waterfalls are in Krka?
There are 7 large, mystical waterfalls in Krka: Bilušića Buk, Brljan Waterfall, Manojlovac Waterfall, Rošnjak Waterfall, Miljacka Waterfall, Roški Waterfall, and the waterfall favored by most visitors - Skradinski Buk.
Can you swim at Krka waterfall?
Swimming in the beautiful Skradinski Buk is prohibited since 2021, but there are other spots inside the Park where you can refresh yourself with a swim in the crystal clear water.
Those spots are Stinice, Remetić – Pisak, and downstream of Roški Slap.
Despite the ban on swimming, a visit to the Krka Waterfalls National Park is as beautiful and exciting experience as ever. You'll still get to enjoy the serene beauty of the Park just by gazing at the stunning landscapes and sensing the harmonious atmosphere.
Is Krka National Park worth visiting?
Krka Waterfalls National Park is absolutely worth visiting.
With picturesque sights, glittering waterfalls, and unearthly vegetation, Krka leaves no one indifferent. It's perfect for everyone who wants to get away from the city noises and experience Mother Nature at its finest, as it should be.
Krka is a downright synesthesia of vivid colors and soothing sounds that merge into a mystical ambiance unlike anywhere else.
It will awaken the explorer inside of you and make you want to come back again and again.
Krka National Park map and entrance

Getting around the Park might seem confusing at first because you'll want to see everything all at once, but once you understand the entrances, it gets simple.
There are 5 entrances, the 2 most popular being Skradin and Lozovac, which are recommended if you're visiting the Park from Šibenik. The others are Roški Slap, Krka Monastery, and Burnum.
The main entrance is Skradin. Once reached by car, it leads to Skradinski Buk waterfall which can be reached by boat. However, if you're an adrenalin junkie who loves cycling or hiking, there's a 3-4km long cycling and hiking path that leads to the waterfall.
Roški Slap entrance can be reached either by car or by boat. You can visit Roški Slap all year long, but the boat excursions to the Krka monastery are available from April to October. Luckily for you - the Krka Monastery is accessible by car or bus throughout the entire year.
Entrance Burnum / Puljane, located above the waterfalls, canyon, and lakes of the river, is only accessible by the road. The locality and archaeological collection are ready to be visited throughout the entire year.
Lozovac entrance is the way to go if you're interested in visiting Visovac Island, famous for its alluring Franciscan monastery. Skradinski Buk can also be reached from this entrance, and there's even an 875m long hiking trail that can get you there. It's also the main road entrance for visitors all year long.
And the final entrance - the Krka monastery entrance. The Krka monastery can be visited by boat from Roški slap waterfall. As mentioned above, it's also possible to visit it by car or the bus.
Krka National Park tickets
The tickets can be bought online. However, they can only be purchased in advance, at least a day prior to your planned visit.
If you want to bring your Krka Waterfalls National Park experience to the maximum, you should book a tour with a private guide.
Get the best of Krka accompanied by a professional guide and book your Krka Waterfalls National Park Full Day Tour from Zadar.