If you're a keen cyclist or like the idea of seeing the sights by eco-friendly bike then Zadar is the perfect place to do it. The surrounding countryside has a number of excellent cycling routes that take you through the Old Town of the city and out onto the beautiful islands.
Do you, too, just look forward to coming back home from work so that you can hop on your bicycle and wander off somewhere far away? Because there is no better feeling than when the wind ruffles your hair and you focus all your strength on pushing those two small pedals. And then, when you feel the heat in your calves, you realize: you feel the most at home when you ride your bike.
If you're one of those who fell in love with cycling, you're about to fall in love for the second time! This once, it's going to be in Zadar Region. Nothing's better than cycling through these Dalmatian roads and soaking up all the beauty around.
One of the most popular cycling locations are Nin, Zaton, Pag, and Ugljan.
In this guide, we've carefully handpicked several biking routes that have everything a cyclist could wish for!
1. Vrana Lake Loop from Biograd na Moru
This route is perfect for those who are staying in Biograd na Moru or somewhere nearby.
Your starting (and ending) point would be the main bus station in Biograd na Moru.
The route mostly consists of paved surfaces, with very few gravel road paths.
We highly recommend this route if you prefer paved paths and would like to visit the Vrana Nature Park as well. It makes a great road trip. You can combine your passion for cycling with your adventurous spirit. Definitely worth the ride!
2. Forest road Diklo-Kožino Loop from Petrčane
This bike route will surely take you up on quite a thrilling adventure! The best way to explore the mystical forests of Dalmatia is by cycling through them. Keep in mind that you'll have to dismount at a certain point and push your bike. Nevertheless, it's going to be an exciting ride! Short, yet sweet, and just enough to get your daily dose of adrenaline.
You'll also be cycling through Borik, which is one of the most beautiful parts of Zadar that overlooks the sea.
This route combines it all - the sea, the forests, and the good old roads. Just what you need!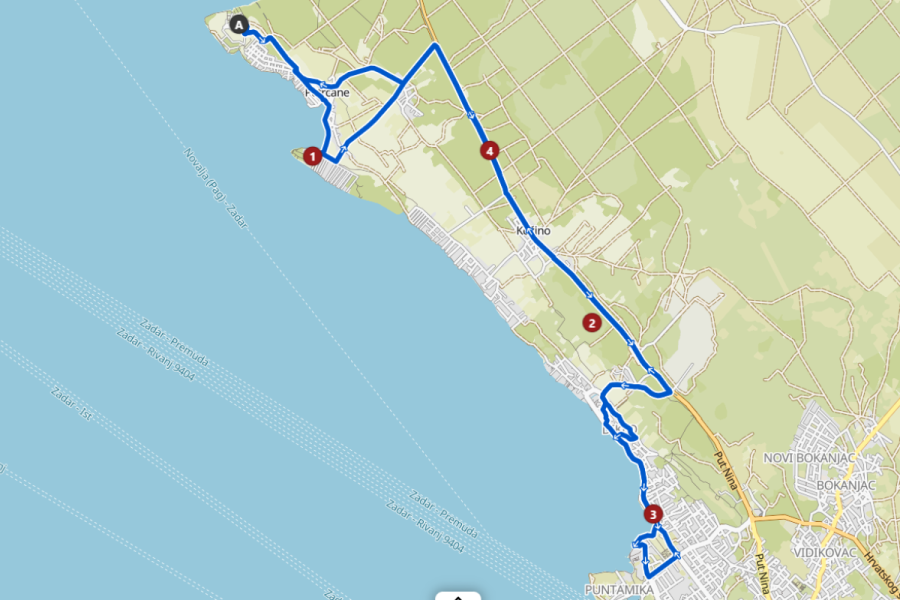 3. Vir Loop from Nin
Now, this route is something else.
You'll be passing through some of the most beautiful sights in the Zadar Region. Vir and Nin are very popular tourist locations, and you'll be cycling through the heart of their most beautiful spots.
The starting point is the divine Queen's Beach. Try to resist the urge to take a quick swim before your ride (or don't). Then, you proceed to the Vir Bridge. Another astounding sight! Just beware of the wind. It's easy to get sick in these weather conditions.
Then comes an exciting ride all over the island of Vir. You'll see some more of the beautiful Adriatic Sea. Make sure to soak up all the remarkable sights, as this tour is truly full of them.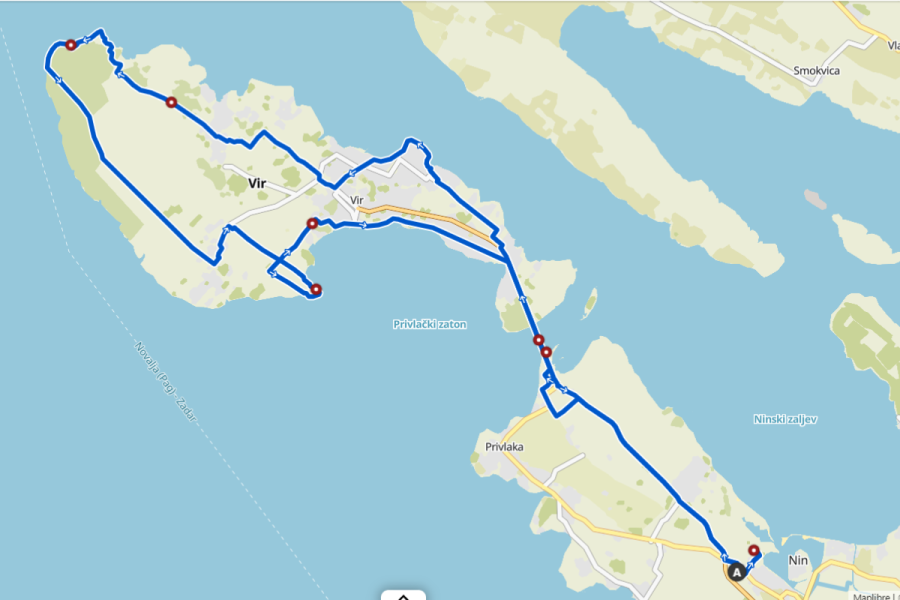 4. Preko Loop from Pašman
This tour is special because you'll be passing through 2 insanely beautiful islands - Ugljan and Pašman. Ugljan is generally one of the most popular cycling areas in the Zadar Region.
This route consists mostly of paved surfaces, and you'll even be passing through some beaches as well. The sea will be everywhere around you during this cycling trip and that's one of the reasons why it is so popular among cyclists.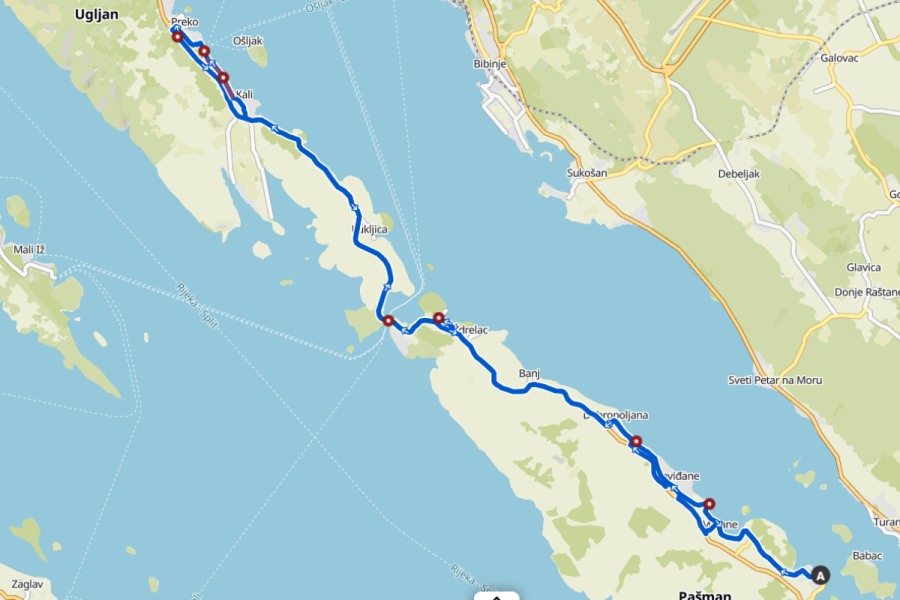 5. Nin - Pag Bridge Loop from Diklo
Disclaimer: This route is not for the faint-hearted!
Pag Bridge loop from Diklo route will challenge every single muscle in your body. It's 130km long and will take you around 8 hours to complete. Everybody who manages to finish the loop definitely deserves a medal, as the whole ride is a true challenge.
What makes this tour so special is that you get to cycle through some of the most amazing landscapes in Zadar County.
Nin is a stunning historical town with a lot of bridges and majestic beaches. On the other hand, Pag is a moonlike island that makes you question which planet you're on. Then, as you reach Diklo, you'll get familiar with one of the most beautiful parts of Zadar that don't get as much recognition.
Get your bike and challenge yourself on this! You're in for quite a treat!
P.S. You may need to dismount and push your bike