Kornati National Park boasts breathtaking island scenery & turquoise waters perfect for boating, diving & exploring. It's an idyllic getaway for nature lovers and outdoor enthusiasts.
Don't know where to go this summer? Visit Kornati National Park and get ready to immerse yourself in the beauty of 89 enchanting islands and islets that bask in the Adriatic Sea!
What can you expect?
A glittering display of coral reefs, towering cliffs, and an abundance of sea creatures, making this park a dream come true for all nature lovers. The islands and islets are scattered over the azure sea like diamonds, seemingly creating a labyrinth that shows just how creative Mother Nature can get! Accompanied by the everlasting sparkle of the Adriatic Sea, you're in for a never-ending parade of colorful marine life.
After just one hour spent on the archipelago, you'll find that Kornati National Park is a place where your dream of discovering a fairy tale archipelago comes to life.
So pack your bags and set off to a wild adventure in the Kornati National Park, where endless fun and excitement await! This park will welcome you with open arms and a wide variety of fun activities that will enrich your day and make this vacation one of the most memorable ones.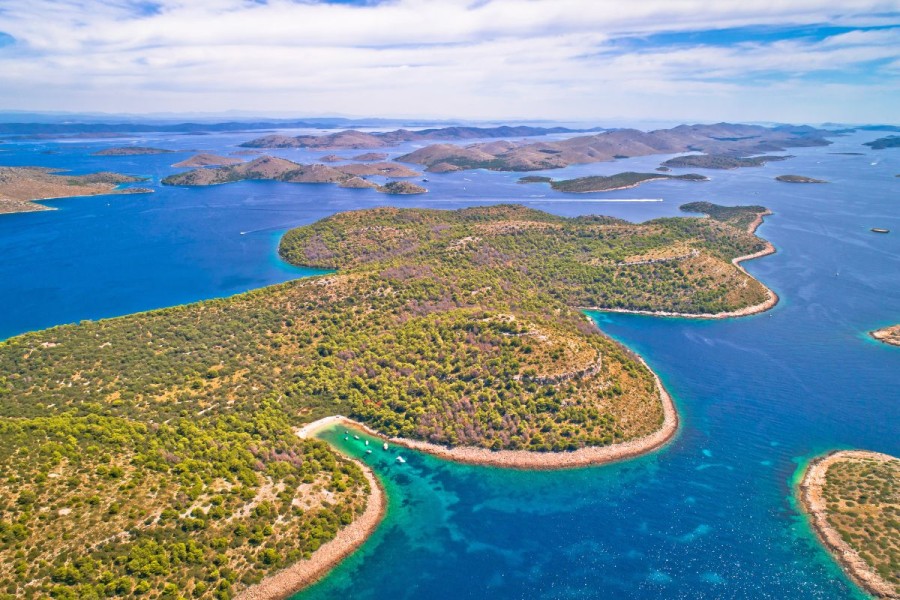 You can dive into crystal-clear waters for a swim, cast a line for some fishing, strap on a snorkel to explore the underwater world, or simply lounge on the beach and soak up the sun.
And for those of you who'd like to incorporate some extra movement into your holidays, hit the hiking trails and discover the hilltops.
Moreover, you can explore the remnants of old hilltop buildings waiting for someone to tell their story. Be on the lookout for the diverse wildlife, from chirping birds to playful dolphins.
The possibilities are endless!
Whether you're looking for a peaceful escape or an action-packed adventure, the Kornati National Park has something for everyone. With its breathtaking landscapes and endless opportunities for exploration, it can assure you a truly unique Mediterranean experience that will stay engraved in your memory long after.
Visit the fortress of Tureta and Church Of Our Lady of Tarac
Visiting the fortress of Tureta and the Church of Our Lady of Tarac on the island of Kornat should definitely be on the top of your to-do list. These are two lovely old buildings waiting for curious tourists to peek inside their walls!
Tureta Fortress, located on Kornat Island, is a mighty fortress, built for military purposes in the 6th century. It offered protection of the shores and monitored navigation in the Adriatic.
Its hilltop position offers a panoramic view of the shimmering Adriatic Sea and its surrounding landscapes, so prepare to be blown off by a breathtaking view of the picturesque islands within Kornati National Park! You'll be surrounded by the natural beauty of the Mediterranean, basked in its warm glow.
Today, sadly, the fort stands in a state of neglect, but its beauty remains intact.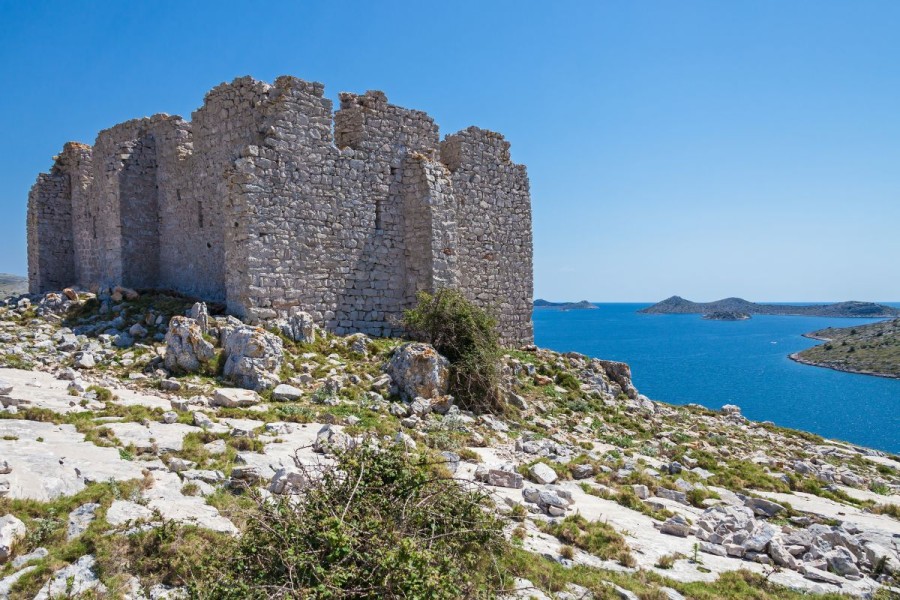 Photo: Tureta Fortress
The Church of Our Lady of Tarac, on the other hand, is a small, tranquil church. Dedicated to Our Lady of Prayer, it is believed to have been built on the remains of a 6th-century Christian basilica.
Although only the apse and part of the foundation remain, the church is of great importance for both religion and tourism. On the first Sunday in July, a beautiful procession of ships takes place, where hundreds of boats come to the cove for the blessing of the sea and the field. The area surrounding the church is also rich in history, with possible remains of a Templar or Benedictine monastery nearby, and being the first place on the island to be colonized.
What sets the island of Kornat apart from others is its unique drywalls - a network of walls built without any mortar. These sturdy structures stretch over 70 km on the island of Kornat, serving as real-life witnesses to the hard work and determination of the island's inhabitants in the past. These walls were built to keep sheep in check and protect property, making them a unique and fascinating feature of the Kornati landscape.
When you mix all the ingredients; the breathtaking landscapes, rich history, and cultural heritage, you feel the true magic of Kornati.
This National Park is a perfect blend of adventure and tranquility, offering something for everyone. Whether you're a history buff, an outdoor enthusiast, or just looking for a relaxing getaway, Kornat has got you covered.
Scuba dive in crystal clear sea of National Park Kornati
Kornati National Park, located in Croatia, offers some of the best diving spots in the world. With crystal clear waters and diverse marine life, the park attracts divers from all around the world.
If you're a qualified autonomous diver, you're in for a treat as you get to see all the amazing sights this National Park has to offer. If you're not a licensed diver, no worries! Just grab a snorkel and dive mask and get a glimpse of the crystal-clear waters from the surface. You'll still enjoy amazing sights!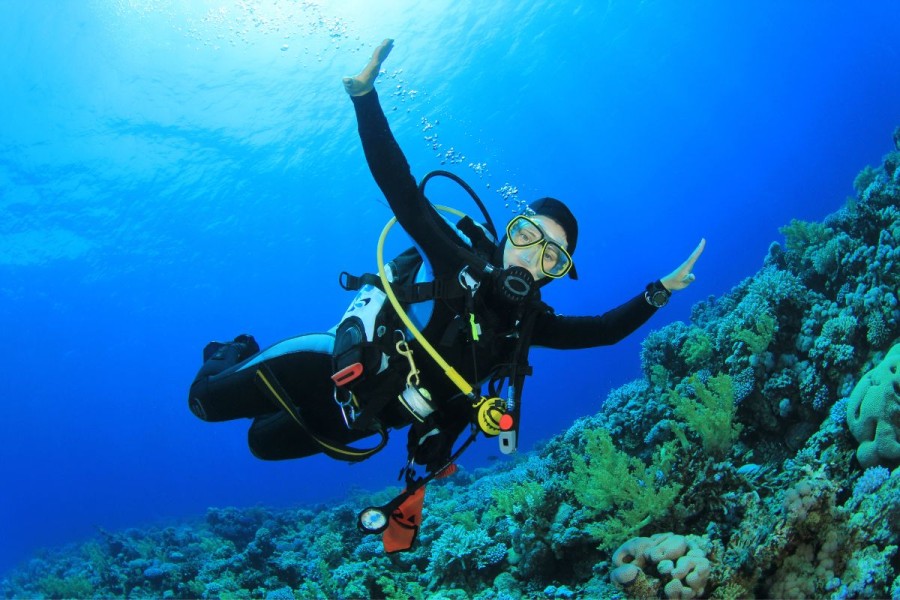 There are 9 designated diving zones in the Kornati National Park (also known as Poseidon's Garden): Kornat, Samograd, Oključ, Mala Panitula, Vela Panitula, Rašip, Kasela, Mana, and Borovnik. With a maximum diving depth of 40 meters, you're sure to have an unforgettable underwater adventure with loads of stunning sights.
However, diving in Kornati must be done through organized and approved groups with a contract with the Kornati National Park. It's not allowed to touch or remove anything from the sea (except for garbage), and night diving is not permitted. Make sure to respect all the laws and regulations of the Republic of Croatia and keep in mind that individual scuba diving isn't allowed
Explore Kornati Islands by hiking
Kornati National Park is so wonderful it must be seen from all angles. That's why we recommend taking your hiking gear and setting yourself up for an adventure among the hilltops!
There are several hiking trails to choose from and you really can't go wrong with any of these, but we've selected a few to help you make your decision.
Litnji vrh
Perfect for beginners! This is a 1.4-kilometer loop trail with 69m elevation gain that takes around 30 minutes to complete on average. You can enjoy birdwatching, hiking, or even running. Open all year round, the trail provides a breathtaking experience at any time of the year.
The best part? Dogs are welcome, so you can bring along your furry best friend to accompany you!
This path leads to the island of Smokvica Vela, starts at Lojena bay, and ends at the 80m tall Litnji Vrh hill. Make sure to soak up all the breathtaking views of the surrounding Kornati islands and enjoy the clean air.
Gujak-Vrulje
This 10.5km trail is sure to awaken your muscles and set you up for a good exercise! The elevation is 107m and this is an out&back type of trail.
It takes approximately a little over 2 hours to complete, so you can squeeze it in even if you're on a tight schedule.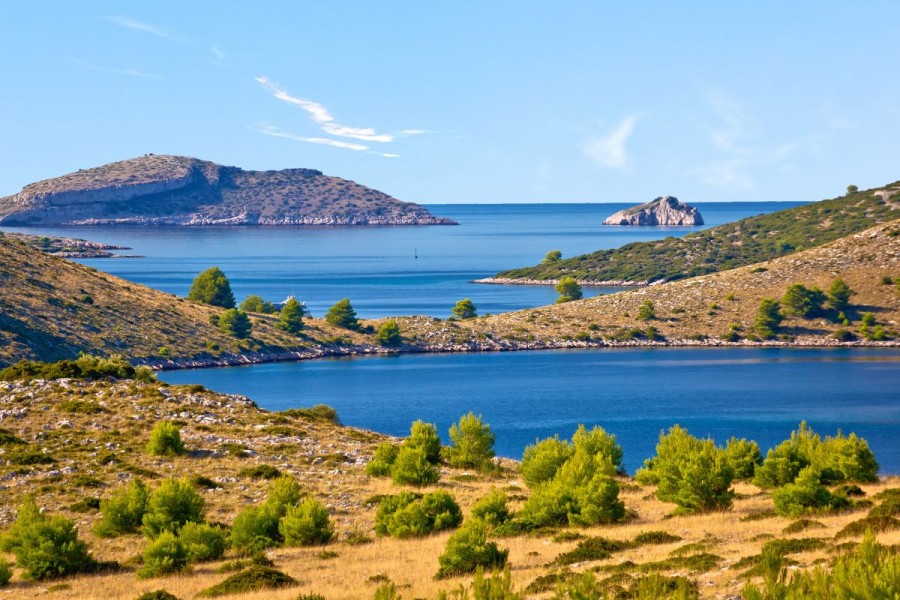 Pivćena Bay-Vrulje
This 4.8 km long hiking trail is a treat for all hiking lovers! With an elevation gain of 127 meters, it's suitable even for beginners, looking to incorporate a little more movement into their vacations.
It takes a little over an hour to finish, which gives you just enough time to get those muscles warm! You're likely to have this route all to yourself, making it a peaceful escape.
We recommend visiting it some time between April and October, as it's the time when you'll get the most out of it. If you have a dog, be sure to bring it along because it will surely enjoy the path just as much as you!
Snorkeling
Snorkeling is one of the activities that you just can't miss! The underwater world of Kornati National Park is packed with diversities made to be looked at in awe.
So if you go snorkeling in Croatia's stunning Kornati National Park, you can expect to be wowed by the vibrant and unique sights everywhere you look. With crystal clear waters, you'll be able to see a variety of colorful fish, sponges, and other marine creatures.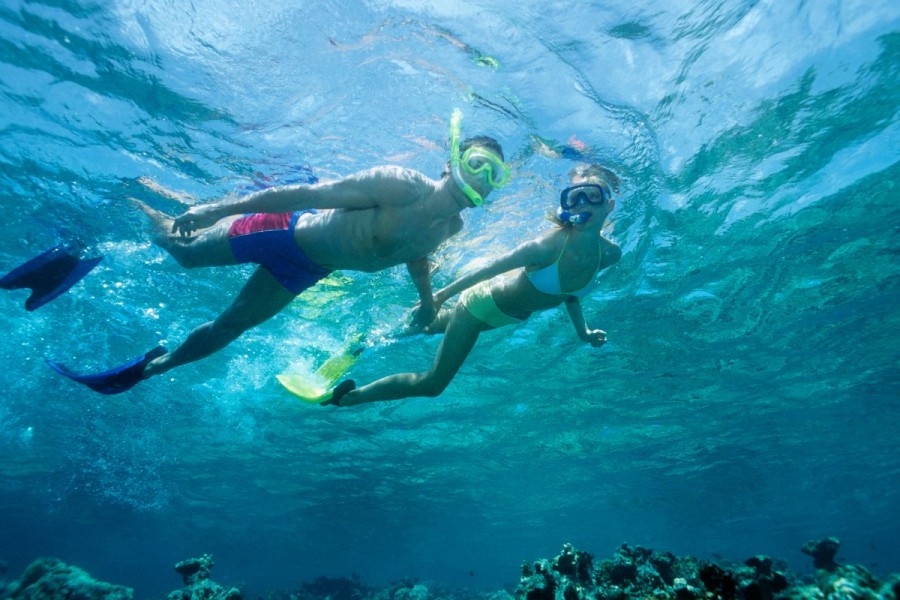 Whether you're an experienced snorkeler or just starting out, Kornati offers a unique experience you'll never forget.
Most people who choose underwater activities in Kornati National Park like to rent a boat to truly be the masters of their own time. Not only will you have the opportunity to take the helm in your hands and set off on the adventure of sailing along the mystical sea paths of Kornati that every boater dreams of, but you will also have the wonderful freedom of choice when and what you're doing!
Visit the national park Kornati on guided boat tours
The best way to soak up everything that National Park Kornati has to offer is by booking a guided tour. That's why we've created one that will take you through the highlights of the park and make your visit worthwhile.
Our Kornati Islands National Park Boat tour from Zadar is one that incorporates all the must-visit places while still leaving you with some leisure time to roam around the island and sunbathe on the beach.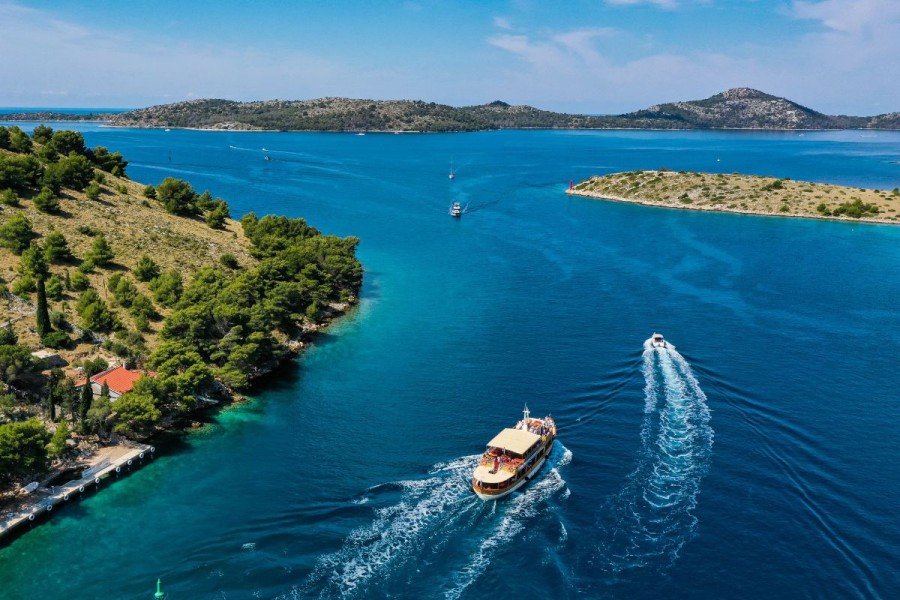 And the best thing - it includes both breakfast and lunch! No need for you to waste precious time on deciding what and where to eat, we've got you covered with the tourist's all-time favorite dishes.
Not only will you visit the Kornati National Park, but you'll also have free time at Nature Park Telašćica! That's the perfect chance to take a dip in Mir lake and see for yourself why everyone can't stop talking about how beautiful the entire archipelago is.
So go ahead, book your tour, and spend an unforgettable day surrounded by pristine nature!
Enjoy fishing
Feeling like throwing a line in a breathtaking location? Look no further because the Kornati National Park is sure to make all your fishing dreams come true!
Fishing can't get any better than throwing a line and being comfortably seated surrounded by the natural miracles of Croatia. The lush greenery, the seemingly endless crystal clear sea, the towering cliffs…you're in for a wonderful treat!
Whether you're more experienced in the world of fishing or getting ready for your first catch, you'll find plenty of opportunities to reel in a variety of fish species.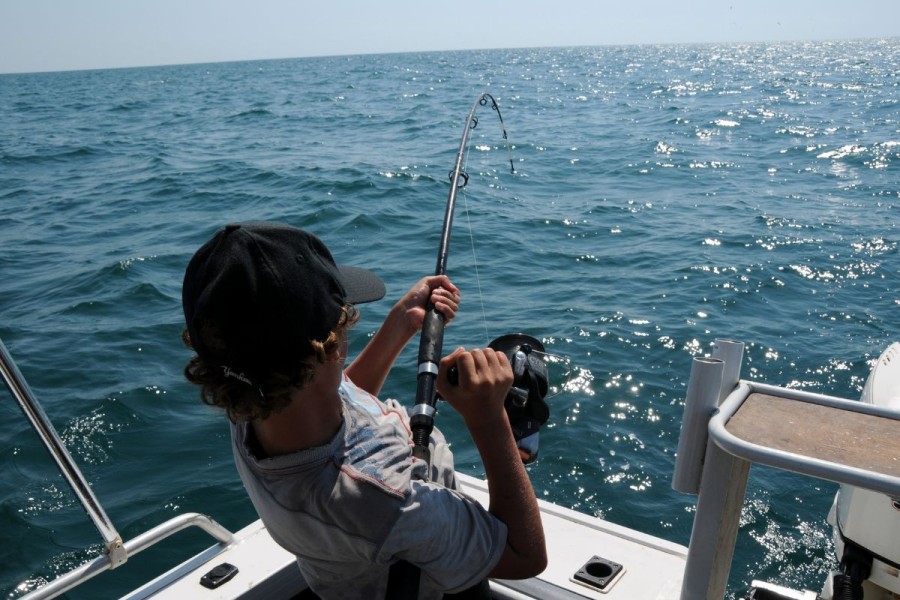 But wait, there's a catch (no pun intended!).
Before you set sail on your fishing adventure, you'll need a fishing license. Don't worry, it's a small price to pay for the chance to explore the Kornati waters! A recreational fishing license grants permission for up to three fishing lines, with a maximum of five hooks per line, to be used. The daily catch limit is set at three kilograms.
And once you've finished your day of fishing, enjoy a fresh seafood feast following traditional recipes and indulge in the exquisite flavors of the Mediterranean.
So, grab your fishing gear and head to Kornati National Park for an unforgettable fishing experience. And who knows, you might just reel in the catch of a lifetime!
Conclusion
And after a long day spent in Kornati National Park truly, you'll know why everybody says that this is a place that can't be missed. It's a gem among the National Parks of Croatia that will have you coming back year after year.
When you see how beautifully the Kornati sea shimmers under the sun, breathe in the air so warm and clean, and gaze at the abundant wildlife surrounding you, you'll want to dedicate the rest of your vacation to exploring every single bit of this National Park.
So whether you're looking for a peaceful escape away from the city, or a day filled with adrenaline and adventure, Kornati National Park is sure to exceed your expectations.